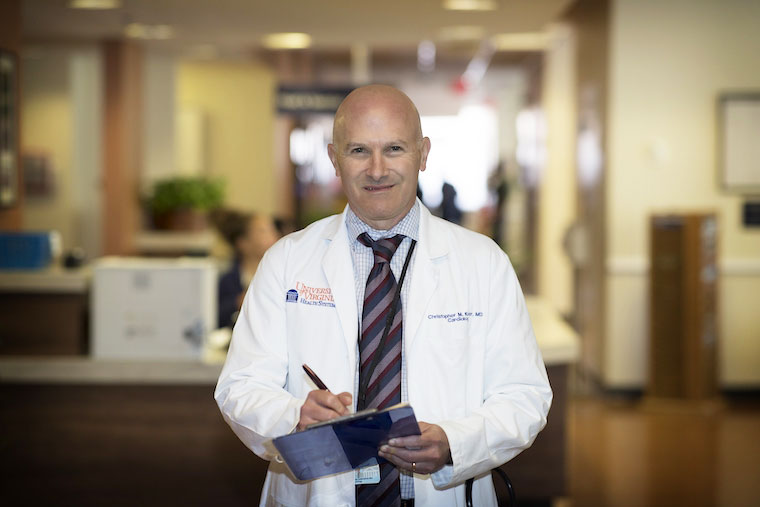 While hypertrophic cardiomyopathy (HCM) is the most common genetic heart condition, it's historically been less well-understood than many other cardiac conditions. But a UVA Health cardiac expert is leading the most comprehensive study ever done on HCM. This work and other research underway at UVA Health is revolutionizing our understanding of the most common cause of sudden cardiac death in young athletes.
"The symptoms are similar to other cardiac conditions — shortness of breath, chest pain," explains Christopher M. Kramer, MD, of UVA Health, Virginia's only designated Center of Excellence by the Hypertrophic Cardiomyopathy Association. No specific symptoms point to diagnosis. Diagnosis is often made by echocardiogram and image quality can be an issue."
Chief of the UVA Division of Cardiovascular Medicine, Kramer is co-principal investigator of the most comprehensive study ever done on HCM — a $14.4 million study that established the Hypertrophic Cardiomyopathy Registry, which includes 2,750 patients from 44 sites in 6 countries.
Capturing Imaging & Clinical Data Together for the First Time
While previous research focused on baseline clinical data, Kramer's study breaks ground by integrating high-tech imaging, genetic analysis, and biomarker data, providing the most sophisticated analysis of HCM ever undertaken.
"Our study puts together the genetics and imaging that other studies have not," Kramer says. "It's the first to include cardiac MRI in every patient, the single best imaging modality for phenotyping these patients and understanding the sub-type of disease they have. It's the only technique to measure scarring in the heart, which we believe will be a major harbinger of poor outcomes."
Initial Findings Reveal 2 Disease Subtypes
Historically, HCM was thought of as "one mutation in one patient type," Kramer says. But research is showing the patient population is much more heterogenous.
Initial findings from the study reveal two broad subtypes among HCM patients:
Those with a sarcomere gene mutation and more scarring of the heart
Those without the mutation, no scarring, and more obstruction to blood flow
The two groups may display distinct clinical courses which longer follow-up will confirm. "Patients with the sarcomere mutation have more severe disease and are at higher risk for adverse clinical outcomes," Kramer explains. "Extensive scarring is a known risk factor for sudden cardiac death."
Developing Predictive Monitoring to Tailor Interventions
Within the next two years, the researchers hope to glean enough information from the registry to create a predictive model for significant adverse clinical outcomes, including sudden cardiac death and heart failure.
They believe observing about 100 such events in patients from the registry will provide enough data to inform the model. Currently, the team has recorded over 60 events.
"We should be able to pick out the 10 or so risk factors that are most important," Kramer explains. "We'll develop an app that allows physicians to put in information like a patient's heart wall thickness, scar burden, troponin level, and whether they have a genetic mutation, and it will spit out the 5-year risk of cardiac death and heart failure and point to specific therapies that may be needed."
The team has already analyzed atrial fibrillation outcomes to better identify those who need early or tailored interventions, in recently published early findings. Atrial fibrillation is the most common morbidity in HCM and the first presentation in many patients.
They identified 127 major endpoints, such as needing hospitalization or catheter ablation, in 96 of the patients. Key risk factors for reaching an endpoint included age, body mass index, size and function of the left atrium, moderate or severe failure of the mitral valve to close completely, and history of arrhythmia.
First New Class of HCM Drugs in 3 Decades Coming Soon
The FDA plans to make a decision on an application of approval for mavacamten, the first in a new class of drugs to treat obstructive HCM, early this year. This will be the first class of new drugs, cardiac myosin inhibitors, to treat HCM developed in 3 decades. It specifically targets the excessive contraction of the heart that leads to blood flow obstruction in two-thirds of HCM patients.
UVA participated in clinical trials for mavacamten, including the EXPLORER-HCM phase 3 trial. The research team recently published their findings.
"Mavacamten markedly improved the health status of patients with symptomatic obstructive hypertrophic cardiomyopathy compared with placebo, with a low number needed to treat for marked improvement," the team wrote. "Given that the primary goals of treatment are to improve symptoms, physical and social function, and quality of life, mavacamten represents a new potential strategy for achieving these goals."
UVA is also part of a phase 3 trial for another similar drug, aficampten, set to begin soon.
"This is the first time drugs have been shown to reduce the overall mass and wall thickness of the heart," Kramer says. "It represents a major advancement."
New Technology Better Captures Heart Scarring Without Using Contrast
As researchers deepen their understanding of HCM, measuring scarring of the heart remains key. Researchers, including doctors at UVA Health, recently developed a new artificial intelligence technology to image heart scarring without using contrast.
Compared to traditional cardiovascular magnetic resonance imaging, the new technology, called Virtual Native Enhancement, produced higher-quality images and better captured evidence of heart scarring. The team published their findings.