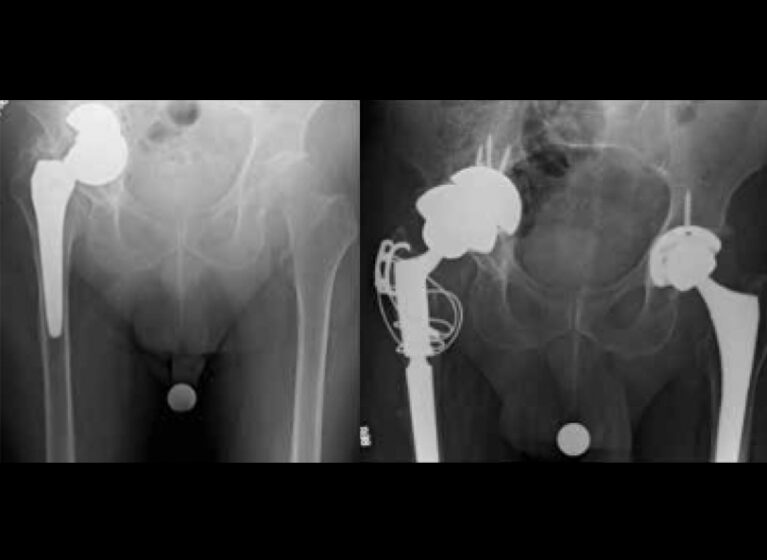 When a 66-year-old man presented with a failed total hip arthroplasty along with a large acetabular defect and incarcerated components, UVA Health surgeons used an innovative double-cup technique to give the patient a new right hip. They describe how this complex hip revision surgery restored the man's ability to do daily activities.
"UVA Orthopedics and UVA Health are at the forefront of patient care," notes Ian M. Duensing, MD, a UVA Health orthopedic surgeon who specializes in hip replacements. "Being a tertiary referral center, UVA Health sees very complex primary and revision cases. Our surgeons employ the most up-to-date and innovative techniques to provide the highest level of care to those who need it."
Advances in Hip Joint Revision Surgeries
One of the biggest challenges in hip revision surgery is treating acetabular defects, which are problems around the hip socket. Advances in biomaterials, trabecular metal technology, and surgical techniques have made revision surgeries and other treatments for these kinds of joint complications possible.
Large acetabular defects are notoriously difficult to treat because of the lack of supportive bone in the pelvis. Acetabular defects range from small, contained defects to near-complete absence of the hemi-pelvis.
"Historically, surgeons have used bone graft to fill these defects, though these often had very poor survivorship, as the body can resorb this bone and leave the metal implants with no support," says Duensing.
He adds, "The advent of trabecular metal augments and cups have allowed surgeons to fill these defects with no risk of resorption with reliable, long-term fixation and good survivorship. Trabecular metal cups come in a range of sizes and can be used to fill very large defects. Another benefit of this technique is the biologic ingrowth that occurs, meaning the patient's bone will grow into the porous metal backing."
One unique and innovative technique for treating acetabular defects is the double-cup construct. This technique is not common, but can be very effective. It uses two acetabular cups, rather than one, to fill a bony defect around the hip socket and provide stability. This technique has shown to be successful in treating large, irregular acetabular defects.
Hip Pain Resurfaces Years After Hip Replacement
The 66-year-old patient first underwent an attempted resurfacing of the right hip in 2006 at an outside facility. The patient suffered complications related to his resurfacing, which was subsequently converted to a large head metal-on-metal total hip arthroplasty.
Ten years later, he presented to UVA Heath with bilateral hip pain. At that time, imaging revealed severe left hip arthritis and a failed metal-on-metal hip arthroplasty on the right.
"He had developed a large, uncontained bony defect around his pre-existing acetabular component. This was likely caused by metal debris from the metal-on-metal total hip arthroplasty. As a result, the acetabular component was protruding through the inner table of the pelvis, effectively incarcerating the hip components," Duensing explains.
Gaining Access to Incarcerated Joint
Our care team first checked him for infection, then proceeded to address the left hip arthritis with a total hip replacement as this was the most symptomatic side. Additionally, he would need one healthy, reliable extremity to recover from revision total hip arthroplasty on the right.
Once recovered from his left hip surgery, our surgeons proceeded with revision surgery to address the issues with his right hip.
Due to the large acetabular defect and issues with the joint components, the hip joint was considered incarcerated and unable to be removed using a standard posterior hip approach. Without access to the hip joint, the revision procedure would not be able to be carried out. At this point, the surgeons opted for an extended trochanteric osteotomy to gain access to the hip joint. They made longitudinal scores in the bone and created a controlled fracture of the lateral surface of the femur, which then allowed exposure of the entire femoral stem.
The surgeons eventually freed up the bone-prosthesis interface and removed the femoral stem. To remove the incarcerated acetabular component, they then expanded the acetabular cavity with reamers and burs and removed the metal-on-metal femoral head and cup. This allowed them to assess and prepare the remaining hip bone for acetabular reconstruction.
Double-Cup Surgery Provides More Normal Hip Rotation
Reaming of the acetabular bone stock left a high hip center with an expansile cavitary defect. As such, the double-cup construct was trialed using the available acetabular bone stock for the first cup. This was positioned so that it provided an interference fit for the second cup, thereby providing a more normal hip center and center of rotation. The femur was prepared for placement of a modular taper-fluted stem.
Intraoperative X-rays confirmed the component position. The surgeons removed the trial components. Then cancellous allograft was packed into part of the acetabular defect, followed by the first trabecular metal cup. The first cup was fixed in place with cancellous screws, followed by the second articulating shell, the polyethylene liner, and the stem. Femoral heads were trialed until appropriate leg length, femoral offset, and stability were reached.
Hip Revision Surgery Spells Relief
The double-cup construct used in this case provided a solution for the large and difficult to treat acetabular defect and allowed for stable initial fixation, promotion of bone ingrowth, and restoration of the native hip center of rotation. The patient successfully recovered from his revision surgery and was able to resume his normal activities.
Acetabular defects can be challenging to treat in revision hip replacement surgery. But, with advancements in technology and surgical techniques, the use of techniques such as the double cup construct described here have shown promise for treating large, irregular acetabular defects. This case highlights the importance of UVA Health's individualized treatment plans and the role of surgical innovation and ingenuity in managing complex cases.