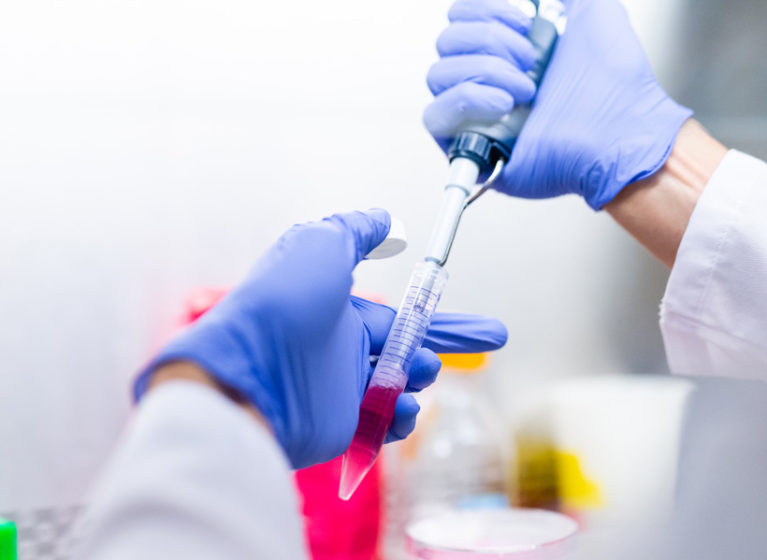 UVA Health researchers were a significant presence at the American Society of Hematology's most recent meeting, showcasing findings that provide valuable insights on hematologic malignancies, including:
Why lymphoma patients can mount a protective immune response to coronavirus despite an impaired antibody response to COVID vaccines
What measures helped reduce C. diff infections following stem cell transplant
Why a frontline agent for follicular lymphoma won't go to phase III trial
"We had a good showing at the ASH meeting with several presentations and posters that generated a lot of traffic — particularly one on the effects of the COVID vaccine for lymphoma patients," says Craig Portell, MD, UVA Health Section Head of Hematologic Malignancies and Medical Director of the Hematologic Malignancies Clinical Research Program.
From the UVA Cancer Center lab of Thomas Loughran, Jr., MD, an MD/PhD student received an ASH Abstract Achievement Award for the first comprehensive analysis of LGL leukemia in young patients.
"We had a wide breadth of presentations — from basic science and bench research using patients' somatic mutation for LGL leukemia to clinical research that shared results from a multicenter clinical trial for follicular lymphoma. We also had interesting outcomes-based presentations on ways to reduce C. diff infections after stem cell transplant," Portell adds.
UVA Research Findings Showcased at ASH Meeting
Cellular Response to COVID Vaccine
Emily C. Ayers, MD, generated a lot of interest in her poster presentation on antibody and T-cell responses to COVID-19 mRNA vaccines.
"This abstract is significant," Ayers says, "because it demonstrates that our patients with non-Hodgkin lymphoma and chronic lymphocytic leukemia have significantly impaired antibody responses to the COVID vaccines compared to healthy people. However, even in patients who do not mount an antibody response, we can detect T cells that are active against the coronavirus. This shows that there is indeed a cellular immune response to the vaccine, even if there are no detectable antibodies."
She adds, "We will be expanding our patient cohort and examining how the booster shot affects the antibody levels in patients with CLL and NHL and will be looking specifically into the T-cell responses among patients with different hematologic malignancies."
"Our findings should provide some level of comfort to our patients who do not have detectable antibodies to the COVID vaccine, to know that they may still be mounting an immune response, which we do not typically test for. We will also be able to test whether we can see an augmented response to the booster among patients with previously low antibody levels once they receive additional vaccination." Learn more about these findings.
First Comprehensive Analysis of LGL Leukemia in Young Patients
A pioneer in the field, Loughran helped discover large granular lymphocyte (LGL) leukemia. His UVA Cancer Center lab continues to make key findings on this rare lymphoproliferative disorder with a mean age of onset at 65. LGL leukemia very rarely presents in pediatric and young adult patients, so little clinical data exist for this population.
An MD/PhD student in Loughran's lab, HeeJin Cheon, was the first author of an abstract that presented the first comprehensive analysis of pediatric and young adult LGL leukemia patients. It found that younger patients tended to exhibit a more severe disease compared to older patients. This abstract received an American Society of Hematology Abstract Achievement Award, given to trainees with high-scoring abstracts.
Based on these findings, "LGL patients aged 50 or under should be monitored regularly for disease progression and symptoms. We still do not know why younger patients tend to exhibit a more severe disease compared to older patients, although we do have a number of hypotheses," says Dr. Loughran, head of the UVA Cancer Center, Virginia's only NCI comprehensive cancer center.
Cheon adds, "Follow-up research currently under way in our laboratory is looking at patients' germline mutation, that is DNA inherited from one's parents." Learn more about these findings.
New Chemotherapy for Follicular Lymphoma Proved Too Toxic
Portell was chosen to moderate a session that presented findings from a multicenter phase II study of adding venetoclax in combination with obinutuzumab and bendamustine in patients with high tumor burden follicular lymphoma.
UVA contributed several patients to the study of this frontline therapy.
"We won't continue to a phase III clinical trial as we learned that while adding this chemotherapy agent was a very effective regimen against the lymphoma itself, there was too much toxicity for the patients," Portell says.
The study authors found that there was a high incidence of opportunistic infections typically only seen in severely immunocompromised individuals. Thus, the high degree of efficacy against follicular lymphoma was not thought to be worth the toxicity if treatment was given, per the study. Read more about these findings.
Reducing CDI Post Stem Cell Transplant
Michael Keng, MD, presented impressive findings from a prospective quality improvement study initiated at UVA Health to decrease Clostridium difficile infection (CDI). This was 1 of 4 abstracts highlighting Keng's research showcased at ASH.
A major complication facing patients undergoing autologous stem cell transplantation, CDI can be associated with increased morbidity and hospital length of stay. Various institutional and multicenter studies have reported incidence rates in this population ranging from less than 5% to more than 10%.
The UVA-initiated study involved a multidisciplinary team of oncology and infectious disease physicians, including Leonid Volodin, MBBS, of the UVA Stem Cell Transplant program, pharmacists, and nurses. This team implemented 3 Plan-Do-Study-Act (PDSA) cycles of interventions. Two of the PDSA cycles resulted in a CDI reduction:
Incorporating ultraviolet (UV) light equipment into existing post-discharge cleaning practices
Adding a 2-step CDI PCR and toxin assay into testing protocols
"This prospective study surpassed the goal to reduce CDI by 33% by using quality improvement methods to drive a clinically significant special cause variation reduction in the 30-day CDI incidence after ASCT and a trend toward decreased length of stay at UVA," the authors write. "This study not only improved patient care, but likely represents increased patient quality of life and cost savings. Future PDSA cycles are scheduled and may include other cancer patients beyond those receiving ASCT," Keng adds. Learn more about this study.