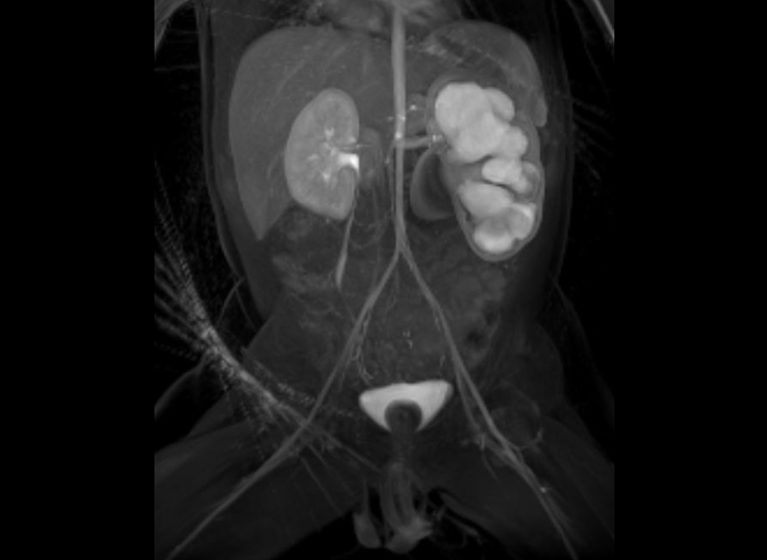 Pediatric urologists at UVA Health are gaining more detailed and useful insights into congenital urologic abnormalities by using magnetic resonance urography (MRU).
This new imaging modality may soon replace traditional renal scintigraphy as the gold standard.
Moving Urologic Imaging Studies from Function to Form
Sean T. Corbett, MD, a pediatric urologist and associate professor of urology at UVA Health, treats patients with complex congenital kidney and urinary tract abnormalities. As he explains, gold-standard renal scintigraphy using DMSA and MAG 3 scans is somewhat imprecise and carries risks relating to radiation exposure.
"Traditional renal scans provide good functional information — for example, how well kidneys are draining — but they don't provide much anatomic detail relating to the cause of the blockage or obstruction," says Corbett.
"Renal scintigraphy studies also subject patients to doses of radiation, which is linked to developmental malignancies in pediatric patients, especially when used with infants and very young children," he notes.
Magnetic Resonance Urography's Edge Over Renal Scintigraphy
MRU provides excellent anatomic detail of the entire course of the ureter, with superior spatial resolution and improved visualization of small urinary tract structures. That's in addition to delivering the same functional information available through renal scintigraphy.
Previously, this level of detail would only be available through a combination of renal scintigraphy, ultrasound, computed tomography, and excreted urography.
For example, when evaluating a ureteral pelvic junction obstruction, MRU not only shows how well the kidney is functioning and draining but also the source of the blockage. According to Corbett, this nuanced detail is important when differentiating between blockages such as:
Crossed blood vessels, which become significant over time and require surgical repair
Intrinsic blockages, which are more likely to resolve spontaneously and require only careful monitoring via ultrasound
"We can avoid additional studies that carry the burden of radiation exposure and, perhaps, avoid surgery completely if we determine that the blockage will resolve on its own," he says. "And when surgery is indicated, MRU studies provide an extra level of anatomic guidance for the surgical team."
Combining Technology & Expertise for Improved Patient Evaluation
MRU has been in clinical development for use in children since the early 2000s. Since then, there have been refinements and improvements as physicists and radiologists develop new ways to get more information from the studies.
However, it's still relatively new. And, it's primarily available only in specialty imaging centers or large academic medical centers like UVA Health that have the technology and trained specialists who can study MRU results with the appropriate level of granularity and are able to follow up with patients accordingly.
"We've been using MRU for several months now, and have established a comfort level with the technology," Corbett says. "We're excited to realize its full potential for understanding the natural history of different diseases and conditions in pediatric urology, as well as in other specialties that today use nuclear imaging to evaluate the function and detail of different organs."