At a Glance
Title: Professor and Chief of the Division of Asthma, Allergy and Immunology
Fellowship: Walter Reed Army Medical Center
Residency: Eisenhower Army Medical Center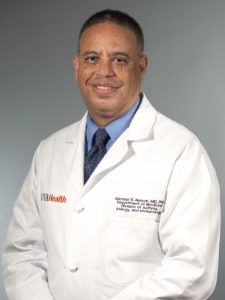 According to Michael Nelson, MD, PhD, there were very few things that could've motivated him to leave the military. Returning to Charlottesville and UVA Health, however, was one of them. Nelson became the chief of the Division of Asthma, Allergy and Immunology at UVA in November 2020, after 25 years in the U.S. Army.
"It's been great to return to UVA and the Charlottesville community. This is where I did my medical training. I received my MD and PhD degrees here many moons ago," says Nelson. "Rejoining colleagues — an inspiring group of clinicians, researchers and educators — and returning to the mission of this institution has been tremendous. What I've noticed is that passion for patient-centered care and individualized care that I remember is still here and very strong. One of my core positions as the leader of this division is to continue to enable this and keep patients at the center of everything we do."
Get to Know: Chief of the Division of Allergy and Clinical Immunology Michael Nelson, MD, PhD
In addition to your leadership role at UVA, you will also be involved in patient care. What are some of the key conditions you treat?
I'm best known for allergen immunotherapy as well as for the treatment of allergic rhinitis and asthma. I am a national expert on individual extract preparation and have assisted providers across the country in that area. I have special expertise in vaccine health and rare adverse reactions. I also have a passion for medical education, disparities in care and diversity, equity and inclusion in medical education.
How has COVID-19 impacted allergy and immunology?
It's had a tremendous impact. Probably one of the biggest things I've contributed to the division is to add a focus on vaccines, vaccine immune response and vaccine adverse reactions. Previously, this was not a major focus of the division, but it certainly has become one. One of the first things I did was establish a high-risk clinic within our UVA Health community vaccination clinic at Seminole Square. We offered this high-risk clinic on Saturday morning for patients who had underlying allergic disorders and might be at higher risk for vaccine adverse reactions. Our team was there for counseling, for observation and treatment of any adverse events should they occur.
Not many institutions have done this. For the most part, most have had community vaccination programs centered around the CDC recommendations. But we felt it was important to go a step above to provide a reassuring presence for our patients. We noted that our patients who came to see us in the allergy clinic were hesitant to receive a vaccine, and they were comforted by the fact that we would be there at the time of their vaccination to offer assistance.
We also established UVA as a clinical research site for an NIH study for highly allergic patients receiving the COVID vaccine. We were one of 29 sites for this study continuing to enroll participants.
Will you be involved in other clinical studies at UVA?
Yes. I will be assisting others in the division with research. We have investigators doing great work in severe asthma, food allergy, alpha-gal allergy, eosinophilic esophagitis and COVID-19 disease and vaccine immune response. We are also looking at other studies with respect to allergen immunotherapy and immuno-biologics. I'll be assisting our great team of clinical investigators on these and future studies.
You retired from the Army after 25 years. What are some of the highlights of your military career?
Well, first, I never intended on being in the military that long. I went to Princeton on an ROTC scholarship and after getting my MD and PhD here at UVA, I completed my internal medicine residency at Eisenhower Army Medical Center and fellowships in allergy and immunology and clinical laboratory immunology at Walter Reed [Army Medical Center]. I stayed on as staff there and became chief of the clinic, chief of the department, program director and, eventually was elevated to senior leadership at the hospital and in the Office of the Army Surgeon General. I led all of education, training and research for Walter Reed National Military Medical Center and ended up leading all of Army graduate medical education in the Army Surgeon General's office. In my last year, I became the Surgeon General's Chief Clinical Consultant for all medical specialties. When this opportunity became available at UVA, I decided it was time to come back and join my colleagues and old friends.
How has your military experience influenced your approach to patient care and healthcare leadership?
One of the greatest advantages of having served in the military is caring for some of the greatest patients in world. Much to the surprise of many, we don't just see active-duty warriors. We see the full spectrum of patients, including families, children and retirees. I've been prepared to treat patients of all ages and from all backgrounds. One advantage of being immersed in military medicine is that everyone is treated exactly the same. You're afforded the opportunity to provide the greatest, state-of-the-art care on an individual basis. I bring that approach back to Charlottesville. Every patient, no matter what their background, socioeconomic status or their payor status, is going to receive the same level of attention and advocacy for the care that they deserve for their specific condition.
Also, through military medicine participation, I've been trained as a leader. It's a distinguished honor to come back to this particular division and institution to offer my leadership skills and help develop the next generation of allergy and immunology care providers and researchers.
You are an advocate for the specialty of allergy and immunology on a national scale. Why do you feel this type of outreach is important?
This specialty is unique. One of the things that attracted me to it is that it's one of the few specialties for which you train primarily in either pediatrics or medicine and come back and get specialty training. This enables you to care for patients of all ages. Because of that – in academic institutions and in some health systems — we don't really fit into typical subspecialty models in either internal medicine or pediatrics. It takes a bit of advocacy to remind people of the special nature of allergy immunology, how it underlies most disease states and crosses specialties.
I am frequently consulted by clinicians from multiple specialties and we conduct research with collaborators from multiple specialties. I think that advocacy, raising awareness, is important because patients and some providers may not know what our special expertise is.
There are different kinds of allergists and immunologists across the country who specialize in different things, whether it's mast cells in asthma or allergic rhinitis or food allergy or bee sting allergy. There's an opportunity for specialization and every clinician's view of an allergist is different. It's always been my goal to really advertise and promote the specialty for those interested in entering training, but also to make sure referring providers in the community and patients are aware of the full scope of what allergists and immunologists do.
Allergists and immunologists are trained to understand the immune system. Immune system problems and allergic processes underly a lot of disease states. We spend time with patients. We love figuring out difficult cases and difficult clinical problems. We are there as a resource for those cases that don't quite fit the box of a classic diagnosis. Quite often, there's a defect in the immune system or a dysregulated immune system at the root of a cause, and we're here to help.
In addition, with the emergence of new immunobiologic medications, we have developed advanced expertise in how they work, what they are, when they should best be used, and how to manage associated adverse effects. We serve as a resource for those particular agents that a lot of community providers might not be familiar with.
What are some of your responsibilities related to your role of President of the American Board of Allergy and Immunology?
I serve as CEO and president, so I have oversight of 17 to 18 volunteer directors on the Board. Oversight over policy and over the certification of more than 6,000 active allergists and immunologists across the country.
We have recently launched a continuing certification process designed to keep all allergists and immunologists up to date on the latest and greatest in this specialty so they can provide advanced care for patients. Instead of an exam every 10 years, we have a much more current and relevant assessment program designed for learning that provides great reassurance to the public that those who are certified by the Board of Allergy and Immunology are indeed up date and worthy of taking care of them.
To refer a patient to a UVA allergist or clinical immunologist, call UVA Physician Direct at 800.552.3723.