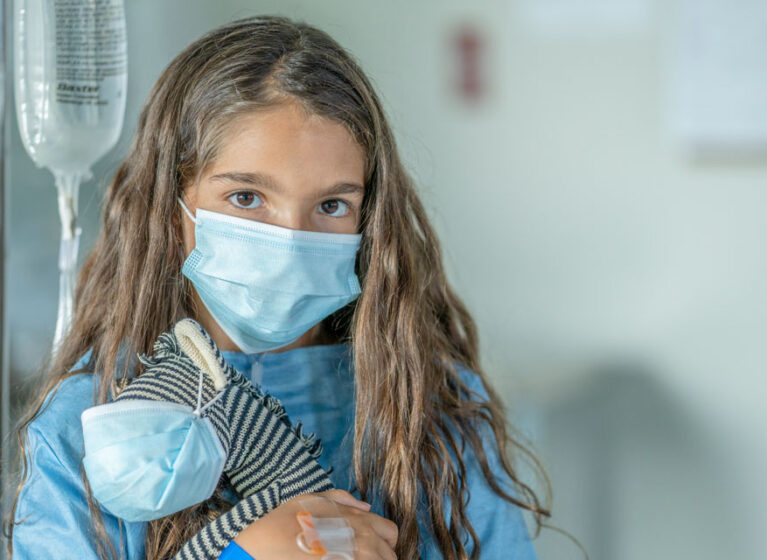 We've grown accustomed to supply shortages this past year. But in transplant medicine, the disparity between supply and demand is more than just an inconvenience; it costs lives.
In lieu of more donors, the onus is on physicians and researchers to bridge the organ gap by innovating new ways to broaden the pool. At UVA Children's, transplant specialists have adopted surgical techniques to do just that. The latest is the pediatric domino liver transplant, a complex procedure that opens the door to improved organ allocation for both kids and adults throughout the region.
Bringing Pediatric Liver Transplant Expertise to Virginia
In collaboration with surgeons at the Children's Hospital of Pittsburgh of UPMC — a UVA Children's partner since 2016 — transplant surgeon Nicolas Goldaracena, MD, performed the first pediatric domino liver transplant at UVA in February of 2021. 
"We're all fighting to reduce the mortality rate for kids on the organ waitlist, which is unfortunately around 10% in the U.S.," says Goldaracena, surgical director of the UVA Living Donor Liver Transplant Program and the UVA Pediatric Liver Transplant Program. "There just aren't as many pediatric donors, so if you're waiting for the perfect organ, it might never come. But through our partnership with UPMC, we are able to offer alternatives for pediatric liver transplant that are more technically challenging — living donations, organ splits, and now the domino transplant — that allow us to give kids access to transplant sooner."
Domino Liver Transplant: How it Works
In pediatric patients with certain inherited metabolic diseases, liver transplantation has been shown to be a viable option to restore genetically deficient enzyme activity. Yet their livers are morphologically normal and — once removed — are healthy enough to be used in another patient.
This means kids with conditions like maple syrup urine disease (MSUD) or familial amyloidosis can be both liver recipients and donors. "In these cases, replacing the liver improves the child's quality of life," says Goldaracena. "And if we give their liver to someone else, it acts like a normal, perfect organ, and that recipient will not suffer from the same disease."
Waste Not: Making the Most of Pediatric Livers
If possible, says Goldaracena, the goal is to use the explanted liver in another child. However, it can be implanted into an adult match or, if sized appropriately, can be split to support a small child and an adult.
"When we work up the first organ recipient, a child with MSUD, for example, we know now that we have an opportunity to use their liver for someone else. So we treat them as a living donor," says Goldaracena. "We do scans to determine organ volumes and the type of patient who might be a suitable match. We can then preselect potential recipients of this liver. We want to use it, not waste it."
Complexities of Domino Transplant
Traditional pediatric liver transplantation is a complex procedure. With the domino transplant, there are additional considerations that make it even more technically challenging. As the name implies, there is the domino effect to consider — subsequent surgeries are only as successful as the first in the chain.
"There is an increased risk of complications with this procedure because it's more difficult," says Goldaracena. "When we remove the liver out of the first child, we have to be very methodical, preserving the quality of the vessels, so that we can successfully implant the organ in someone else and avoid vascular complications."
Because of this complexity and need for fully intact vascular structures, Goldaracena adds that the best candidates for domino transplant are those without prior surgeries. "Ideally, we want patients who not only have poor access to organs, but who are also technically more straightforward so that we can ensure a better outcome," he says.
Possibility Through Partnership
This type of challenging pediatric organ transplant would not be possible without the support of the team at Children's Hospital of Pittsburgh, which has done more pediatric liver transplants than any other center in the U.S., according to the United Network of Organ Sharing (UNOS). "This is a center with a lot of experience historically," says Goldaracena. "Because of this partnership, we are the only hospital in Virginia providing pediatric liver transplant care."
Not just care — but excellent care. "By combining forces, we are able to do technically complex procedures not often done, all with excellent outcomes. Since the partnership began, we have done around 26 pediatric transplants and all patients are alive with the original transplanted liver," says Goldaracena.
The benefits of this partnership extend beyond the operating room, he adds. "Because of this combined expertise, we are able to manage any complications that might arise after surgery as well. This is a big part of what allows us to have such good results."