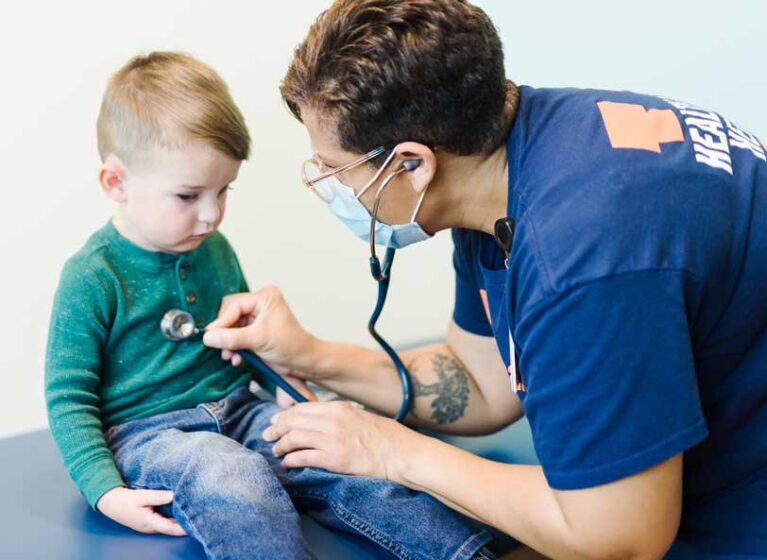 The Virginia Congenital Cardiac Collaborative combines the efforts of pediatric cardiologists, cardiac surgeons, cardiac anesthesiologists, intensive care physicians, and cardiac support professionals from across three institutions. Its mission is to optimize care and outcomes for children in Virginia with complex congenital heart defects, which occur in 1 out of 100 live births. Expanding the availability of CHD surgical expertise will change lives.
Aiming to Keep Families Close to Home for Specialized Care
The pioneering collaborative was formed in 2017 between UVA Children's and Children's Hospital of The King's Daughters (CHKD), with Children's Hospital of Richmond at VCU (CHoR) joining in 2021. It is one of the few such collaborations in which surgeons conduct operations at all member hospitals.
The three hospitals are strategically located along the state's highly-traveled Route 64. CHoR is located in Richmond, the centrally-located capital of Virginia. UVA Children's is about 70 miles northwest of Richmond, while CHKD is about 95 miles southeast, on the coast. The three hospitals and their outreach clinics provide convenient access to expert pediatric cardiology care for much of the commonwealth's population.
"No child with a congenital heart defect should have to leave Virginia to get the very best heart care," says James P. Nataro, MD, PhD. "If you do go out of state for heart surgery, who does the follow-up? How do you stay in that system of care when you've traveled so far for the operation? With our collaborative, every family in Virginia can stay close to home for surgery as well as pre- and postoperative care."
"We're taking care of kids who are very complex patients from a surgical standpoint," adds James Gangemi, MD, surgical director of pediatric congenital heart surgery at UVA Children's and for the collaborative. "We're doing as complex surgeries as anywhere in the U.S., and our surgical outcomes — including our STAT 5 (most complex) outcomes — match or exceed anywhere else in the country."
Expanding High-Volume CHD Surgical Expertise
Gangemi and UVA Children's Mark E. Roeser, MD, both have privileges at all three of the collaborative's institutions. In addition to traveling to CHKD twice a month to conduct congenital heart defect surgeries, Gangemi will begin operating once or twice monthly at CHoR in March.
The collaborative has also recruited two other pediatric cardiac surgeons to operate at CHKD and plans to hire one more surgeon who will have privileges at CHoR and the two other institutions. Nataro projects that the collaborative will perform as many as 500 congenital heart defect surgeries a year.
UVA Children's currently handles the most complicated cases. These patients range from complex neonates to infants with decreased ventricular function who may be transplant candidates.
Maximizing family convenience while providing the most appropriate level of care is a major point of focus for the collaborative. For instance, if a complex patient from Richmond has surgery at UVA Children's, he or she will receive all follow-up care at CHoR. The same approach would apply for a complex patient from Norfolk, who would receive all postsurgical care at CHKD.
"Our goal is to keep patients as close to home as possible while also minimizing risk," Gangemi says.
Standardizing Care Across All Three Institutions
Another point of focus for the collaborative is standardization of care. Gangemi and his colleagues have developed protocols to foster uniformity in surgical and nonsurgical care at all three institutions.
"We've learned so much about the process of establishing good standards and protocols at UVA, " Gangemi says. "We share that with each hospital within the collaborative, fine-tuning for each institution's level of experience as our alliance grows."
"The goal is to provide consistent top-tier care," Nataro adds. "No matter where you are in the state of Virginia, you'll get the same quality of care before, during, and after surgery."
Five years in, Gangemi looks forward to the continued evolution of the collaborative and discovering new ways to expand its impact.
"We want to take care of as many kids from throughout Virginia as possible, because we believe in the care we deliver and the team we've put together," he says. "Everyone in the program is equally important, and we're working to maximize the quality of care that we provide patients."