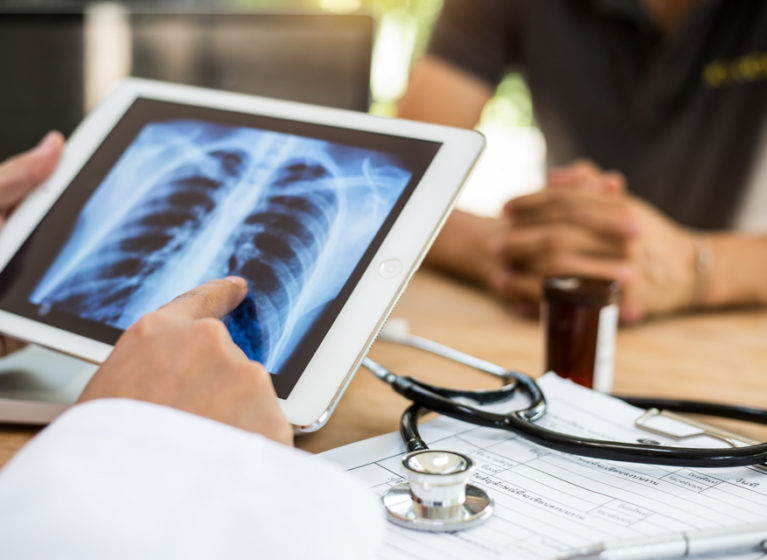 At a Glance:
Imre Noth, MD, is co-principal investigator of a Phase 3 multi-center clinical trial testing to see if well-tolerated N-Acetylcysteine (NAC) is an effective treatment in a subset of IPF patients who carry a particular DNA variant.
Known as the PRECISIONS trial, this is the field's first genomic-driven treatment trial. It builds on earlier work that showed the drug improves a composite endpoint that included survival in IPF patients with the TT genotype for a particular variant in TOLLIP gene. (NAC proved harmful or ineffective in those with other genotypes.)
Noth's goal is to make it possible to definitively diagnose IPF with a blood test and tailor drugs to specific genotypes, putting it on par with how we combat many cancers.
---
It's an antioxidant supplement marketed as an unproven cure for everything from a hangover to cancer. As such, NAC seems an unlikely player in altering how we treat idiopathic pulmonary fibrosis (IPF). But for Imre Noth, MD, NAC is the beginning of "providing precision medicine for pulmonary fibrosis."
Chief of the UVA Division of Pulmonary and Critical Care Medicine, Noth is an expert in clinical trial design, genomics, transcriptomics, and pharmacogenomics. Involved in numerous major clinical trials, focused predominantly on IPF, Noth co-leads the NIH-sponsored Protocol Leadership Group for IPF in the Pulmonary Clinical Trials Consortium.
At UVA, Noth has built one of the country's leading subspecialty clinics in interstitial lung diseases, establishing a program that includes 4 UVA specialists in IPF, who have 5 or 6 clinical trials running at any given time, including the study of NAC.
Potential to Change Scientific Landscape
Noth's unique insights helped secure a $22 million grant to support precision medicine research for IPF. Awarded in 2019, the grant comes from the NIH and Three Lakes Partners, a philanthropic family organization.
The grant supports the March 2020 launch of the PRECISIONS trial, which has a broad scope. Not only are the researchers examining the effects of NAC on IPF patients with a TT genotype but, according to the Pulmonary Fibrosis Foundation (PFF), the study aims to:
Distinguish IPF from non-IPF interstitial lung diseases, using unbiased combinations of blood transcriptomics, large-scale molecular analysis of blood samples, and proteomics

Identify which genetic variants play a role in IPF risk
"PRECISIONS has the potential to really change the scientific landscape of how we view IPF and ILDs by providing molecular classifications, while determining if a pharmacogenetically driven treatment can change outcomes," Noth said.
He added, "What a difference it would make if you could draw blood and see this marker 'XYZ,' so you can label the type of lung disease, then decide on treatment options. That's what we do today with oncology."
First-of-Its-Kind Trial
UVA's Noth collaborated with Cornell University colleagues to launch the Phase 3 PRECISIONS trial known formerly as Prospective Treatment Efficacy in IPF Using Genotype for NAC Selection. It builds on earlier research that looked at the underlying genetics from the blood of 150 IPF patients. Preliminary data showed that "If you had the TT genotype and you took NAC, you were 7 times more likely to live. NAC was harmful in CC genotype, and not harmful but ineffective in CT genotype," Noth says.
"We're interested in the TT group that seems to benefit from use of NAC. This is the first-of-its-kind, genotype-driven trial. The equivalent is BRCA1-based chemotherapy that's specific to your breast cancer genotype."
The PRECISIONS team is leveraging the PFF Patient Registry and Biorepository, which has enrolled more than 2,000 patients with a diverse range of PF disorders at 42 Care Center Network sites nationwide.
Who Can Enroll in the Trial?
The trial seeks to enroll 200 adults who are 40 and older and diagnosed with IPF with a TOLLIP rs3750920 TT genotype. For 24 months, participants will receive 600 mg NAC 3 times daily or a matched placebo. If participants currently take pirfenidone or nintedanib, they must be on a stable dose for at least 6 weeks prior to their enrollment visit.
Learn more about the PRECISIONS trial.