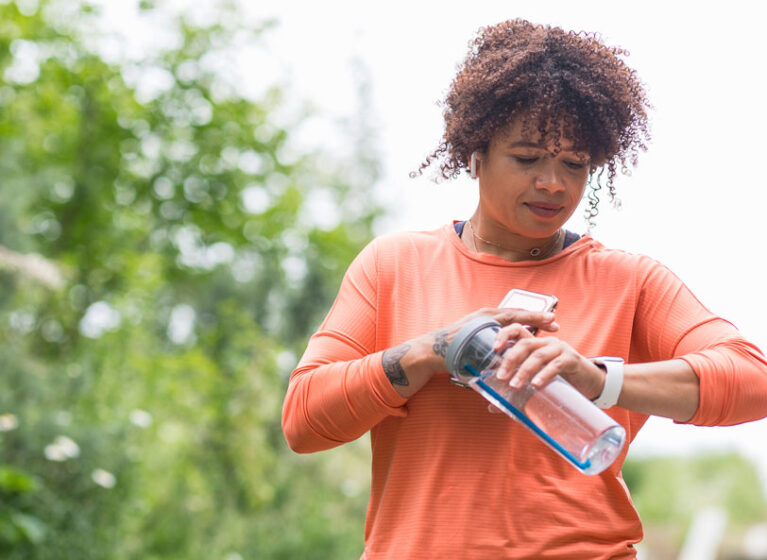 Patients recover from abdominal cancer surgery faster and with fewer complications if they go into surgery in better physical shape, UVA Health research reveals. Building on these findings, UVA Health researchers are using an investigator award from Apple® to develop an interventional clinical trial to investigate whether a preoperative exercise program can improve surgical outcomes for patients undergoing colorectal, liver, gynecologic, and other abdominal cancer surgeries.
Evaluating Preconditioning
In this randomized feasibility study, all participants will wear an Apple Watch®. Those assigned to an exercise group will use a smartphone application to get feedback on their activity level and encouragement to reach their activity goals.
"Traditionally, we've used rehabilitation after surgery to try to help patients get their strength back. We're focusing on physical therapy-type activity ahead of surgery," says UVA Health colorectal surgeon Traci Hedrick, MD.
She adds, "Our goal is to better prepare them for surgery, similar to training for a marathon."
Hedrick is principal investigator for the UVA Health-developed clinical trial titled Evaluation of the Feasibility of Wearable Technology-Guided Exercise Preconditioning to Accelerate Return to Function After Cancer Surgery.
Inactivity Before Surgery Impacts Surgical Outcomes
The clinical trial builds on intriguing research by Hedrick and her colleagues. They found that poor activity levels, and even poor sleep quality, before surgery is associated with increased postoperative complications.
In this study, the researchers had about 100 UVA Health colorectal cancer surgery patients wear Fitbit wearable devices 30 days prior to elective colorectal surgery.
Based on their preoperative step counts measured by the Fitbits, patients were put into 1 of 2 groups:
Active (≥5000 steps per day)
Inactive (<5000 steps per day)
"For this study, we just watched patients. We didn't tell them to actively do an exercise regimen," Hedrick says. "And we were able to demonstrate that those who were more physically active, as evident on the Fitbit, had much lower postoperative complication rates."
She adds, "We even looked at their sleep patterns and found that those who got less REM sleep had higher surgical complications."
More Pre-Surgery Steps/Sleep = Less Post-Surgery Readmissions
The researchers uncovered that those who developed a complication within 30 days after surgery were less likely to average at least 1 hour of REM sleep in the week before surgery than those who did not develop a complication.
The researchers conclude: "Preoperative REM sleep duration may represent a risk factor for surgical complications; however additional research is necessary to confirm this relationship." They published these results in Surgical Endoscopy.
UVA Health researchers also found that achieving a higher percentage of an individual's preoperative baseline activity level on the day prior to discharge after major colorectal surgery is associated with decreased risk of 30-day hospital readmission. They also published these results in Surgical Endoscopy.
Overall, the researchers found: "There is significant room for improvement in baseline preoperative activity levels of patients undergoing colorectal surgery."
Smartwatch Feasibility Study a First Step
The UVA Health-developed clinical trial plans to enroll about 60 patients. But Hedrick adds, "The ultimate goal is to do a larger efficacy trial to investigate whether this will translate into improved outcomes following surgery."
UVA Health patients enrolled in the trial are assigned to one of 3 groups:
Maintain their current activity
Increase activity to 5 days a week, 40 minutes per day, of continuous moderate activity
Increase activity to 5 days a week, 40 minutes per day, of intervals of moderate and vigorous activity
Preliminary trial results are promising. But, Hedrick concedes, motivating people to exercise can be challenging. "I do think there is significant promise, particularly for the frailer patients to greatly improve their outcomes following surgery."
Hedrick adds, "For the patient who is initially not a candidate for surgery, prehabilitation could potentially translate into them becoming a surgical candidate. Certainly, it has the potential to shorten the recovery or preclude patients from needing to go to a skilled nursing facility after surgery."
Get details about this clinical trial.