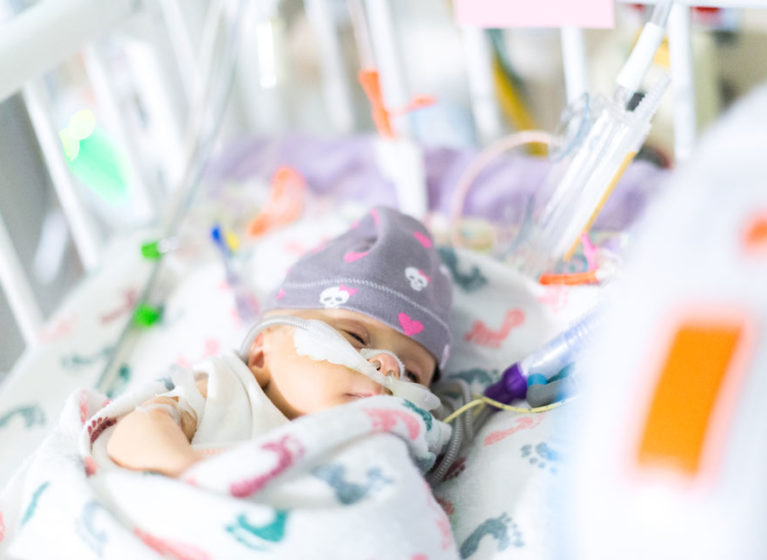 For the tiniest and sickest patients in the hospital, signs of infection and other serious complications sometimes appear too late.
At UVA Children's, early warning systems help monitor patients for life-threatening illnesses. An international leader in predictive monitoring research and innovation, we are at the forefront in developing digital technologies proven to offer better outcomes for babies and children by warning doctors and nurses of the earliest signs of illness.
World's Largest Repository of NICU Vital Sign Data
Together with the UVA Center for Advanced Medical Analytics, UVA Children's researchers have amassed what is almost certainly the world's largest collection of neonatal intensive care unit (NICU) bedside monitor vital sign data. The major thrust of the research is developing early warning systems for sepsis.
"Recent discoveries in physiological monitoring data have led to high-impact publications and innovative work to develop predictive analytics that can detect sepsis warning signals in heart rate and breathing," says neonatologist Brynne Sullivan, MD, assistant professor of pediatrics in the UVA Division of Neonatology. "Our clinical experiences drive our research and likewise, our discoveries keep improving our methods of patient care."
Research Leads to Innovative Clinical Application
UVA's predictive monitoring research has expanded in clinical application. For example, the FDA-approved HeRO monitor (Heart Rate Observation), developed at UVA Children's, detects abnormal heart rate patterns commonly associated with sepsis in preterm infants. In the largest randomized clinical trial of very low birth weight preterm infants conducted to date, the display of the HeRO score was associated with a 40% decrease in sepsis-associated mortality. The UVA-developed monitor is currently in use in hospitals across the globe.
"Early research focused on patterns in heart rate data that predict sepsis in the NICU," says Sullivan, a leader of the multi-center collaboration that includes Washington and Columbia Universities. "More recently, we have discovered new signatures of illness in the cardiorespiratory data. We have developed and validated predictive technology from this and now we're working to get this to the bedside and test its impact."
In the UVA pediatric intensive care unit (PICU), a team of researchers led by Michael C. Spaeder, MD, MS, professor of pediatric critical care, developed predictive monitoring for early detection of sepsis and urgent intubation. The visual platform known as Continuous Monitoring of Event Trajectories, or CoMET, uses continuous monitoring and computer algorithms to create a visual portrait of a patient's risk of experiencing a serious event over the next 12 hours. Moment-to-moment data is drawn from a patient's EKG, laboratory results, and vital signs to create a graphic representing risk on a large LCD screen. That visual helps clinicians gauge patients' stability and risk for clinical issues, and, if needed, determine what actions should be taken to protect a patient's health.
Another focus in the UVA PICU is on predicting adverse outcomes in children requiring open heart surgery. Ongoing work measuring oxygen delivery to the brain and other organs aims to reduce morbidity and mortality of PICU patients and reduce length of ICU stay. Expanding this work to pediatric patients monitored in the emergency department and the inpatient service could further improve outcomes by facilitating triage and care escalation to decrease the chance of clinical deterioration.
Leading Research Hub for Predictive Analytics
Clinical care at UVA Children's is enhanced by past and present predictive monitoring research. UVA is the only hospital in Virginia that offers continuous predictive monitoring in the NICU and PICU.
Multiple NIH grants fund current NICU predictive monitoring research, which involves multicenter collaborations led by UVA investigators. One of the most recent areas of focus for the UVA NICU is discovering abnormal vital sign patterns that predict risk for neurodevelopmental impairment. Through early prediction, researchers aim to identify babies who could benefit from earlier targeted neuro-rehabilitation therapies to improve outcomes. Once funding is secured, UVA NICU will be first to pilot that technology.
"Our research and innovation will enhance the care at UVA Children's and improve the health and well-being of our patients," Sullivan says. "Our goal is to improve bedside precision care and make monitoring display technology available nationally."