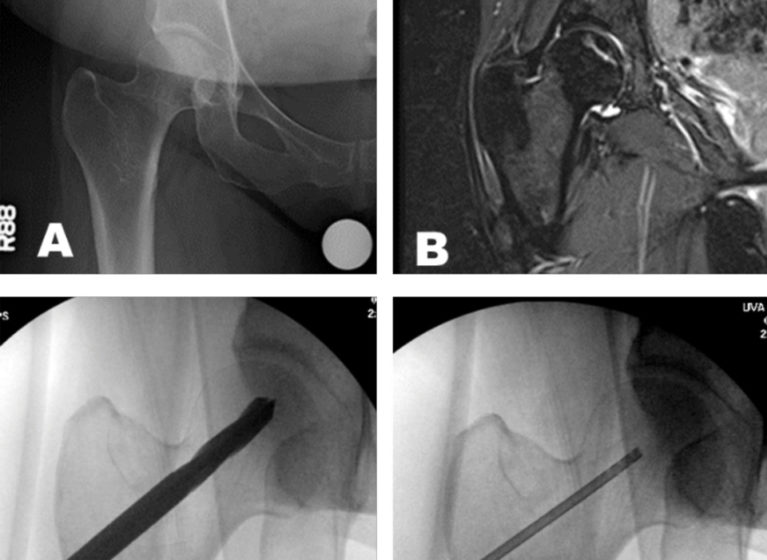 Young adults often lead active lives, but a rare and debilitating disease of the hip bone puts many at risk for advanced arthritis and mobility problems. Osteonecrosis of the femoral head (ONFH) — also known as avascular necrosis — affects more than 20,000 Americans each year and is most common in people aged 30 to 50 years old, according to the American Academy of Orthopaedic Surgeons.
UVA orthopedic surgeon Quanjun Cui, MD, is one of the few U.S. experts using bone-forming stem cells to regenerate healthy bone tissue. This procedure interrupts the trajectory of the disease, helping patients avoid surgery for much longer.
Too Young for Joint Replacement Surgery
ONFH occurs when the blood supply to the femoral head is disrupted, blocking the flow of nutrients and oxygen into the bone and preventing the growth of new tissue. The bone eventually dies, causing significant pain, breakdown, and collapse of the femoral head, along with arthritis. Risk factors for this condition include:
Hip trauma
Long-term corticosteroid treatment
Excessive alcohol use
Medical conditions such as lupus or blood-clotting disorders
Once the hip joint is destroyed, total hip arthroplasty is the most reliable treatment. However, joint replacement surgery is not ideal for younger patients. Still physically active, these patients will likely outlive their implant's lifespan. That means they face the potential for multiple revisions as they age.
"The goal is to try to keep patients from getting an artificial joint too early in their lives," Cui says. "Joint preservation is a much better option."
Stem Cell Osteocronosis Treatment: Early Diagnosis is Key
If ONFH gets caught early enough, before too much disease progression, patients are potential candidates for hip-preserving procedures.
"We start with a precise imaging study – most likely an MRI," Cui says. "Once we determine the location and size of the bone lesion, that dictates the treatment plan. If the assessment of the dead bone, the volume, and the location is not accurate, then the treatment will not be effective."
Combining Core Decompression & Stem Cell Therapy
Cui is one of the few orthopedic specialists in the country to offer an innovative and promising intervention for pre-collapse ONFH: core decompression (CD) with stem cell therapy. Core decompression involves drilling one or more tracts in the femoral head to restore blood flow and relieve pressure.
Next, the surgeon injects autologous bone marrow stem cells (harvested from the pelvic bone) into the femoral head to support new bone tissue growth. These cells have been found to survive and proliferate for up to 12 weeks.
Understanding Mechanisms & Improving Efficacy
The molecular and cellular mechanisms driving bone formation by bone marrow stem cells remain unclear. Recent discoveries suggest that immune system cells are involved in regulating bone development. Supported by funds from the National Institute of Health (NIH), Cui's team is working to determine what subsets of bone marrow stem cells, immune cells, and their cytokines, and antibodies correlate with optimal bone healing.
Cui is also collaborating with investigators at other institutions to organize randomized, multi-center clinical trials assessing the efficacy of stem cell therapy for ONFH. Their goals include finding the best source of stem cells and determining the most effective method of implantation for pre-collapse ONFH.
"We have been working to perfect this technique to deliver the best outcomes for our patients," Cui says. "For those whose disease is diagnosed early, we often can prevent further damage, allowing them to remain active and pain-free for many years to come."