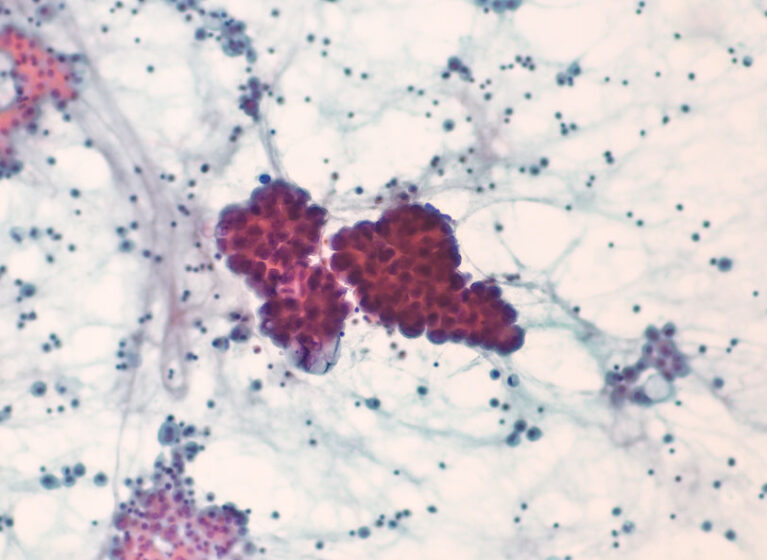 A UVA Health researcher working with colleagues from across the globe recently completed a Phase Ib trial (COSMIC-021) of a new drug combination that may lengthen survival in patients with advanced non-squamous non-small cell lung cancer (NSCLC). The study's findings indicate that the benefits of first-line immunotherapy can be extended when adding the tyrosine kinase inhibitor cabozantinib to the monoclonal antibody atezolizumab.
Seeking Long-Term Cancer Control
Ryan Gentzler, MD, is a medical oncologist and associate professor of hematology/oncology at UVA Health, the only Comprehensive Cancer Center in Virginia. There, he serves as director of the thoracic oncology clinical research program. He also chairs UVA Cancer Center's lung cancer translational research team. Gentzler has worked as an active investigator on many clinical trials, bringing patients access to immunotherapies and other new treatments not available in standard clinical practice.
"Thanks to the use of immunotherapy as a first-line treatment, some NSCLC patients are living longer," Gentzler says. "However, others do not get significant reduction in tumor size and must be subjected to second-line chemotherapies that can have negative cumulative side effects. A good deal of my research work focuses on the development of treatments that work better and longer and are more well-tolerated."
When Immunotherapy Stops Working
The COSMIC-021 trial studied patients with advanced NSCLC who were previously treated with immune checkpoint inhibitors (ICIs). ICIs activate the immune system to help fight cancer. The trial added cabozantinib, a multitargeted receptor tyrosine kinase inhibitor that targets vascular endothelial growth factor (VEGF) proteins that provide blood supply to help NSCLC tumors grow and metastasize. According to Gentzler, cabozantinib has previously shown some efficacy by itself for patients with NSCLC.
"This trial sought to discover what happens when immunotherapy stops working," he says. "What impact would continued immunotherapy have in a second-line treatment?"
Trial patients were split into 2 cohorts. One received only cabozantinib, while the other received both cabozantinib and atezolizumab. Patients with known EGFR, ALK, ROS1, or BRAF V600E tumor mutations were excluded from the study.
Tumors were assessed per RECIST v1.1 every 6 weeks for the first year and every 12 weeks thereafter. Of patients receiving cabozantinib only, 6% demonstrated an objective response rate (complete response or partial response), and 65% demonstrated a disease control rate (complete response, partial response, or stable disease).
Of patients receiving the drug combination, 19% demonstrated an objective response rate, and 80% demonstrated a disease control rate.
"These findings show that while targeting the VEGF protein is important, it is not sufficient by itself," Gentzler says. "The synergy of the 2-drug combination works much better to improve chances of beneficial response, suggesting that we can extend the benefit duration of immunotherapy into the second-line space."
Role of PD-L1 to Be Investigated
According to Gentzler, the COSMIC-021 trial validates previous study findings of similar response in other types of tumors. Moving forward, he plans further research to determine which patients would derive the greatest benefit from the cabozantinib-plus-atezolizumab combination.
"We saw an increased benefit of immunotherapy among patients with PD-L1 positive tumors, suggesting that PD-L1 staining levels may play a role," he says.
More Trials Aiming to Lengthen Survival
A randomized phase 2 trial of cabozantinib plus nivolumab compared with standard chemotherapy is an ongoing trial, EA-5191, being conducted by the ECOG-ACRIN cooperative group. There is also a phase 3 trial, CONTACT-01, studying cabozantinib plus atezolizumab compared with docetaxel that has completed enrollment. We are awaiting results from this trial. Both trials are studying NSCLC patients previously treated with ICI- and platinum-based chemotherapy.
"We want to see higher rates of tumor shrinkage, longer cancer control, and increased time before patients need new treatment — all of which translate to longer patient survival," Gentzler says.
A Comprehensive Team Approach to Cancer Research
As the UVA Health principal investigator and site lead for the multicenter COSMIC-21 trial, Gentzler notes that "UVA Health has a large number of trials in various lung care settings, from newly diagnosed to previously treated, as well as different genetic subtypes."
He credits the comprehensive team with helping patients navigate the clinical trial process. They include:
Pharmacists dedicated to lung cancer
Nurses who understand the side effects of standard and experimental treatments
Oncologists who focus solely on lung cancer
Gentzler adds that he is proud of the role UVA Health plays in collaborating with partners at other institutions and throughout the industry to drive understanding of cutting-edge treatments that may someday become the standard of care.