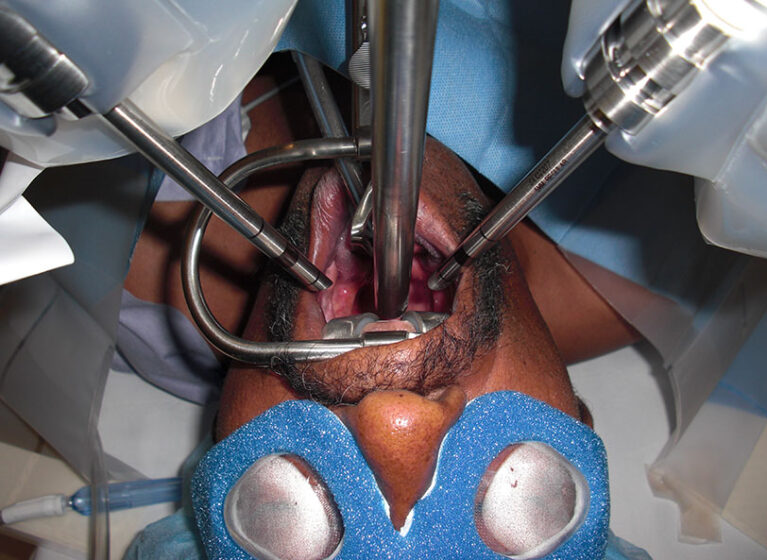 A long-term pilot study at UVA Cancer Center is evaluating efficacy and functional quality of life in patients treated with transoral robotic surgery (TORS) for oropharyngeal (OP-SCCA) or supraglottic squamous cell carcinoma (SG-SCCA). The main goal, according to principal investigator David C. Shonka Jr., MD, is to show that TORS produces comparable survival rates to radiation or chemoradiation therapy and has better functional outcomes.
Transforming the Treatment Approach
Historically, OP-SCCA and SG-SCCA have been treated with some combination of radiation therapy, chemotherapy, and open surgery. These all produce serious side effects. High-dose radiation causes side effects such as fibrosis of the neck muscles, osteoradionecrosis of the mandible, and the development of additional primary tumors, all of which chemotherapy exacerbates. Traditional open surgery, meanwhile, often requires splitting the jawbone to reach the tumor, followed by the rigors of complex reconstructive surgery.
Previously, low survival rates meant patients didn't live long enough to face the challenges of living with radiation's side effects. At the time, most head and neck cancers were smoking-related. Now, we are seeing a rise in HPV-related head and neck cancers — especially oropharyngeal cancers, which result in better prognoses. Growing numbers of patients are thus living long enough to experience radiation-related side effects.
To mitigate these side effects, UVA Health has developed expertise in robotics and is continuing to push the envelope on its usage.
Preserving Survival & Quality of Life
In 2009, the FDA approved the use of a robotic surgical system for TORS. This development allowed surgeons to access tumors in the tonsils and back of the tongue via the mouth rather than through pharyngotomy. As a result, patients experience no visible scarring or disfigurement, fewer complications, shorter hospital stays, and faster recovery. UVA Health has offered TORS since 2010.
"With TORS, you can avoid complex reconstructions. It has revolutionized the way we treat these types of cancers," Shonka says. "Now we're exploring how to preserve the really good survival rates that are possible today while decreasing the long-term effects of treatment."
Shonka currently oversees a trial along with UVA Health's Katherine L. Fedder, MD, and Jonathan C. Garneau, MD. This research aims to expand and optimize TORS application, improving the length and quality of patient lives.
Shonka explains what he hopes to achieve. "Can we eliminate radiation entirely if we catch a tumor early enough and get it out with surgery?" he says. "If it's advanced, can we do surgery first and then give a smaller dose of postoperative radiation? Can we cut chemotherapy out of the equation entirely? If we can eliminate chemotherapy, decrease the radiation dosage, and maintain these excellent oncologic outcomes, we suspect these patients are going to be better off long term."
Evaluating TORS Efficacy & Expanded TORS Adoption
Patients undergoing TORS at UVA Health are prospectively enrolled in the study; postoperative radiation or chemoradiation therapy is recommended based on certain criteria. All subjects are followed for 3 years post-TORS and evaluated for survival, recurrence, quality of life, and swallowing function. Last September, the study reached its target of 110 enrolled subjects, about one-third of whom have finished their 3-year follow-up. Investigators estimate a study completion date of early 2025.
Shonka hopes this trial, along with others, such as the national ECOG-ACRIN Cancer Research Group trial (E3311), will increase adoption of TORS in treating OP-SCCA and SG-SCCA.
"The use of TORS for this purpose is quite common nationally, but it's not universally accepted," he says. "There are some academic institutions that are very reluctant to use it. There are other institutions that don't offer TORS and probably some physicians who just don't buy into it."
Continuing to boost adoption of TORS, Shonka acknowledges, will require convincing more clinicians of its merits.
"When I was in training, it was almost a knee-jerk reaction: If you saw a patient with an oropharyngeal cancer, off they went for radiation or chemotherapy plus radiation," he says. "I think a lot of clinicians are still trained that way, still practice that way, and don't consider TORS as seriously as they could."
Shonka believes that more data supporting expanded TORS adoption will raise awareness of its potential, ultimately benefitting more patients. "It's not the right treatment option for everyone, but simply having it available as an option is a worthwhile goal."