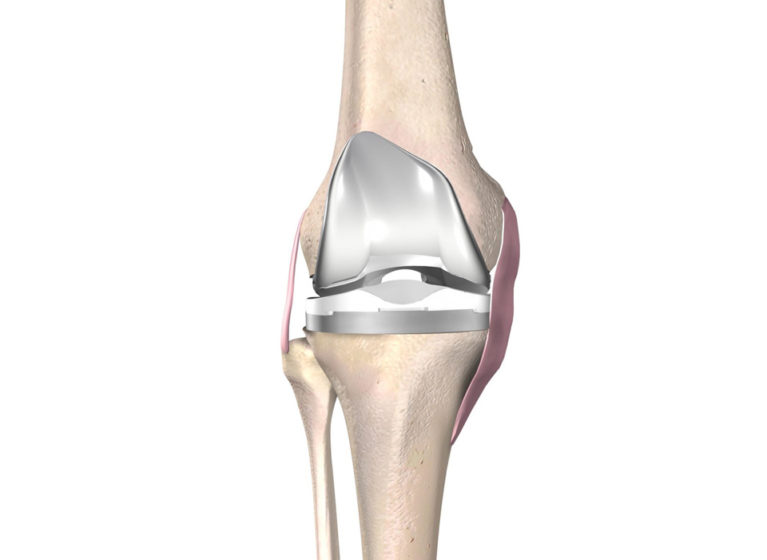 As Virginia's largest provider of knee replacement revision surgeries, an investment in technology that provides better fitting knee replacements is an investment in our patients.
Using our newly acquired Mako® SmartRobotics™ tool, UVA Health's highly trained and experienced orthopedic surgeons can perform knee replacements and revisions with greater precision. This means patients have more durable, stable, and comfortable knee replacements.
Better Patient Experience
"With traditional knee replacement, there is a 20% dissatisfaction rate," says Thomas E. Brown, MD, a UVA orthopedic surgeon specializing in hip and knee replacements with one of the largest joint replacement practices in Virginia. Because of this dissatisfaction, caused by the replacement's failure, many patients seek revision surgery to correct issues with an existing knee replacement. Many patients come to UVA Health because of our expertise in revision surgery.
"At UVA Health, we have the largest revision burden in the state. We see a lot of knee replacements done elsewhere that have failed. The vast majority are not failing at 25 years — they are failing at 5 years," notes Brown. "Many fail because of infection, instability, early loosening, or being too stiff."
The Three Steps to Success
Performing a knee replacement with robotic enhancement succeeds due to precision at every step.
It starts with detailed mapping of patient knee anatomy using CAT scans and 3D modeling. This gives us a clear picture of the inside of the knee, which helps us assess the joint and create an individualized surgical plan.
During surgery, AccuStop™ haptic technology guides the surgeon and preserves soft tissue and healthy bone by allowing for more precise cuts.
All this increases the potential for biologic fixation. More biologic fixation during joint replacement results in less cement used to secure the implant. This increases the durability of the implant over time.
"This is a surgeon-driven tool. However, the accuracy of the robot is far better than we can do with the naked eye in terms of the amount of bone removed, the angles of cuts required to balance the knee," notes Brown. "And it's all individualized for each patient."
All Patients Benefit
All knee replacement surgeries, simple to complex, can benefit from the use of the robot. "This can be applied to a simple knee issue, including all knee arthritis, or to something more complex, like a previous deformity, fracture, or prior trauma," says Brown. "Our hope is that, by combining our expertise with robotic assistance, we'll be able to get it right and improve the survivorship of knee replacement."
What does success look like? "It's called the 'forgotten joint," Brown says. "If a patient gets to a point where they've forgotten they ever had a joint replaced, then that is a successful operation. That's what we're striving for."