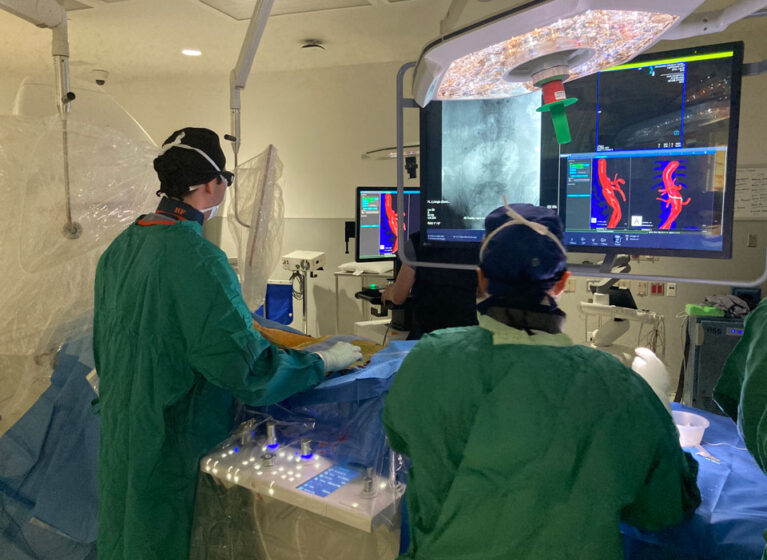 Since opening in June 2021, UVA Health's new Aortic Center has become a national leader in aortic care, focusing on research, educating providers, and advancing care for patients.
Serving as a quaternary referral center, we give patients access to innovative procedures and devices only available at select centers while speeding recovery. We also offer advanced technology to improve outcomes and make surgery safer for both the patient and surgical team.
Using Advanced Endovascular Techniques to Reduce Recovery Time
Our center's providers are some of the most experienced in the covered endovascular reconstruction of the aortic bifurcation (CERAB) technique. This advanced endovascular procedure treats occlusive disease of the infrarenal aorta or iliac arteries, a significant cause of peripheral artery disease (PAD).
The surgeon obtains percutaneous access to the femoral arteries through the groin, recanalizes the occluded iliac arteries to restore blood flow, and uses covered stents to reconstruct the aortic iliac segments.
"The recovery is much shorter with a hospital stay of a day or two," says Behzad Farivar, MD, co-director of UVA Health Aortic Center. "Within a week or so they're able to get back to normal life without significant downtime."
The technique is an alternative to open surgery, which requires a much more extensive recovery. With open surgery, "Patients have an ICU stay, 7 to 10 days in the hospital, and 6 to 8 weeks of recovery at home," says Farivar.
New Technology Offers Enhanced Imaging, Reduced Radiation Exposure
UVA Health was the second center in the U.S. to use an innovative surgical navigation technology that reduces radiation exposure.
The technology can be used in procedures that traditionally involve ionizing radiation or fluoroscopy. "Exposure to ionizing radiation over a long period can increase the risk of cancer," says Farivar, the first surgeon to use the technology in clinical cases after FDA clearance.
"The system generates an electromagnetic field around the patient, which is non-ionizing so it doesn't cause cell damage," Farivar says. "It works like a GPS system. From inside the body, it can tell us where we're going."
The system also has the advantage of providing 3D image guidance. "It's a more accurate way of navigating the blood vessels because it gives us better images," Farivar says. "It opens up a lot of possibilities."
Enhanced Recovery After Open Aortic Surgery
Our aortic center is the first in the U.S. to create an Enhanced Recovery After Surgery program for open aortic surgery.
"We brought together everyone who will care for the patient before, during, and after surgery so we're all on the same page and processes happen automatically," Farivar says.
For example, all patients are scheduled to meet with a social worker early in their care and begin working with physical therapy on day 1. "This way, the patient just has to focus on getting better, not arranging this or that," Farivar says.