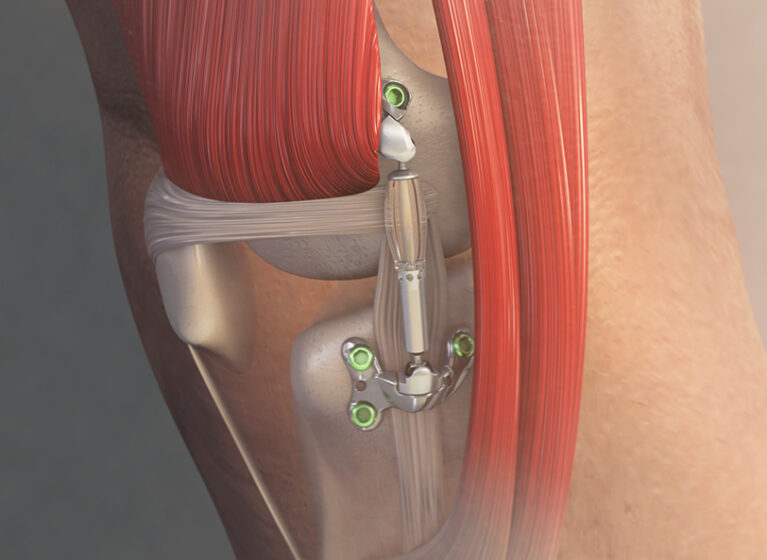 Roughly 10 million Americans under the age of 65 have mild to moderate medial knee osteoarthritis (OA). Active and in their prime employment years, they're too young for knee replacement surgery. And nonsurgical remedies, like physical therapy, injections and bracing, may bring inadequate relief. They're also not interested in the current standard of care – high tibial osteotomy (HTO) — because of its invasiveness and long, painful recovery.
To address this gap in care, the Food and Drug Administration (FDA) recently approved a medial implantable shock absorber (MISHA) that is less invasive and offers a faster, easier recovery — and UVA Health is one of the first hospitals in the United States to offer it to patients.
David Diduch, MD, an orthopedic surgeon and head of Sports Medicine at UVA Health, has been actively involved with all three trial versions of the novel device over the past 10 years and says there's nothing else like it on the market. "This final version of the MISHA is safe, effective, and even better than the current standard of care," Diduch says.
MISHA Provides Immediate Pain Relief
Developed by Moximed and approved by the FDA in April 2023, the MISHA Knee System is an implantable shock absorber that offers superior results over HTO.
Like HTO, the new MISHA unloads the knee but provides immediate pain relief and functional improvement because surgeons do not cut into the bone.
During this outpatient procedure, the implant is placed under the skin through a 4- to 5-inch incision made outside the joint capsule and superficial to the medial collateral ligament (MCL). The device is attached to the distal femur and proximal tibia with locking screws and acts like a spring to unload peak force of the knee by over 30%. That's equivalent to HTO, but with less tissue damage, making the procedure more tolerable, with fewer than two weeks to full weight-bearing status (compared to two months for HTO).
"My patients have been very happy with the immediate pain relief and relative ease of recovery, especially in comparison to alternative procedures," says Diduch.
And because the MISHA is loaded only in the last 45 degrees of extension, patients don't need to fight the device to flex, making it easier to adapt and return to full activity.
Superior Clinical Trial Results
As a single-arm, non-inferiority study versus HTO, the MISHA has shown superior clinical results at two years.
With an 83.5% responder rate, the MISHA outperformed HTO (57.2% responder rate) in every area at two years, including:
76% decrease in WOMAC Pain score
74% improvement in WOMAC Function score
99% non-conversion to arthroplasty rate
Zero mechanical failures
In addition, Diduch says over 60% of his patients reported that they returned to their favorite physical activities, including running and playing sports, without significant pain or compromised ability.
Ideal Candidates for MISHA
According to Diduch, MISHA is ideal for patients under the age of 65 with mild to moderate medial OA (identified as having KL Grade II or III) who are looking to remain active and prolong arthroplasty with less pain and more functionality.
Other characteristics that make a patient suitable for MISHA (and were part of the study) include:
Weight under 300 lbs.
Body mass index (BMI) under 35
Minimal OA in the lateral or patellofemoral compartments
Less than 10 degrees of varus alignment
Flexion contracture less than 10 degrees
At least six months of failed conservative care
While there is no age restriction to receive the MISHA, Diduch suggests that arthroplasty may be more appropriate for older patients with advanced, grade 4 OA that is "bone on bone." He also does not recommend the procedure for people with the following conditions:
Significant osteoporosis because of potential compromised screw purchase
Large medial bone spurs because of potential contact with the device
Future Applications for MISHA
As more orthopedic surgeons adopt the use of this new device in the months and years to come, Diduch and his fellow researchers believe MISHA will become a gold standard treatment option for OA. They also believe MISHA will be used as an offloading adjunct to other procedures, such as cartilage grafts and meniscus transplants.
"MISHA bridges the gap for patients with mild to moderate OA who've had little to no success with nonsurgical treatments but aren't ready for a full knee replacement," explains Diduch. "It's the in-between step that patients have been seeking, and the surgeons at UVA Health can deliver this novel, minimally invasive option that provides quick, sustainable pain relief and functional improvement."
While the training rollout will happen slowly to ensure quality control, trial investigators like Diduch are already scheduling patients for the MISHA. And because UVA Health is on the forefront of this technology, it's one of only a handful of locations in the country able to conduct this groundbreaking procedure.