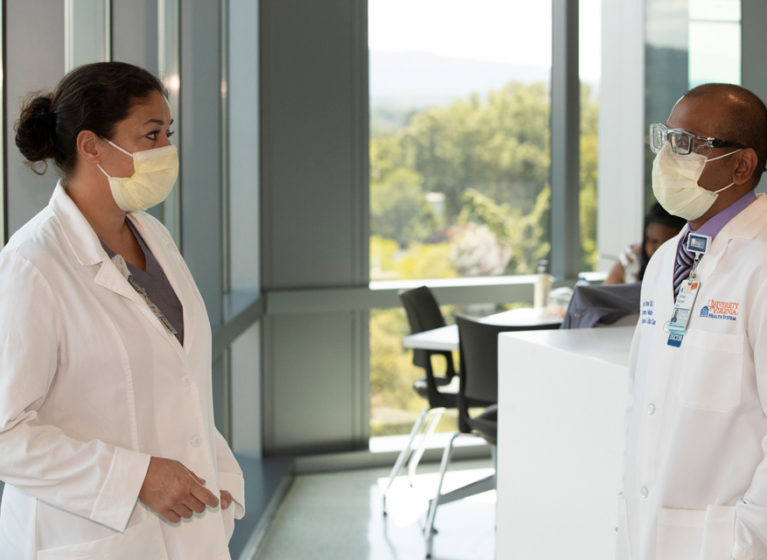 At a Glance:
Under the leadership of a critical care pulmonologist, UVA Health is playing a key role in gaining valuable insights into the long-term consequences of COVID-19. This is happening on two fronts:
Closely following and tracking the outcomes and symptoms of more than 160 COVID-19 patients, including those who were critically ill in the ICU and those not hospitalized but experiencing lingering symptoms.
Creating a biorepository of blood cells from patients with acute COVID. The goal is to discover potential treatment targets by correlating biomarkers with long COVID symptoms.
---
Alex Kadl, MD, MS, a UVA critical care pulmonologist, along with Chintan Ramani, MD, former fellow at UVA, established one of the nation's first post-ICU COVID clinics. Kadl saw her first outpatient June 2, 2020. By July 30, 2020, she and her pulmonary colleagues published what they believe to be the first case-series analysis of outpatient follow-up visits for COVID patients who were hospitalized in the ICU.
"The long-term impact of this disease remains unclear, but our study suggests a low burden of pulmonary and neurocognitive morbidity at immediate follow-up," wrote Kadl and her colleagues in the journal Chest.
Their initial findings of this cohort included:
Evidence of abnormal lung function tests in about half the patients with evidence of restrictive and/or obstructive lung disease, and similar to previously published data in acute respiratory distress syndrome (ARDS)

Prevalence of depression and insomnia comparable with previous post-ICU outcome studies
Post-ICU Survival Ranks Among Top Academic Medical Centers
The UVA researchers also found that, "Despite significant dosages for sedation and a high prevalence of delirium in the ICU, the majority of the current patients had no or only mild objective cognitive impairment at 6 weeks following hospital discharge. This observation, and the fact that the majority of patients are able to independently perform activities of daily life, differs from previous reports of survivors of critical illness, but could possibly be due to the younger age of COVID survivors."
Imre Noth, MD, chief of the UVA Division of Pulmonary and Critical Care Medicine, applauds the dedication of Kadl and the entire pulmonary critical care team, especially considering UVA Health's survival rates rank among the top decile of academic medical centers for critically ill patients, including those with COVID-19.
One of the most rewarding moments for Kadl came during a clinic visit with a man in his 30s who was able to play with his children. It was a dramatic transformation for a patient who had spent 5 1/2 months in the UVA COVID ICU and for the most part on life support and near death.
Tracking Lung Function & Other Symptoms
Since the pandemic's start, UVA has been well positioned to closely monitor COVID patients. Unlike other academic hospital ICUs that have had sudden influxes of severely ill patients, UVA has had a steady stream of COVID admissions. This gave Kadl, along with colleague Kyle Enfield, MD, MS, associate chief medical officer for critical care, the opportunity to closely follow their ICU patients after discharge. Their post-COVID clinic has maintained an 80% appointment-show rate, and has expanded to include all ICU patients, as well as COVID patients not hospitalized but experiencing long COVID symptoms.
While mainly focused on pulmonary health, the clinic closely tracks all symptoms. Some patients continue to experience symptoms ranging from insomnia and depression to fatigue and shortness of breath. Some struggle with getting back to baseline with activity level. As needed, Kadl and clinic team refer patients to other UVA specialties, including neuropsychology and physical therapy.
COVID Biorepository to Help Find Answers for Long COVID
When the pandemic hit, Dr. Judith Woodfolk and her research team within the UVA Division of Asthma, Allergy & Immunology, shifted their focus from the rhinovirus to SARS-CoV-2. Kadl credits Woodfolk, along with William Petri Jr., MD, PhD, a leading COVID researcher within the UVA Division of Infectious Diseases, for quickly recognizing the opportunity and securing resources for the establishment of biorepositories in acute ill patients, but also in recovered patients seen in the post-COVID clinic.
Kadl is optimistic that the creation of a COVID-specific biorepository will aid in understanding changes in immune responses in COVID-19 patients and possibly help to:
Prognosticate long-term patient outcomes
Determine new strategies for therapy to prevent severe illness and post-COVID conditions