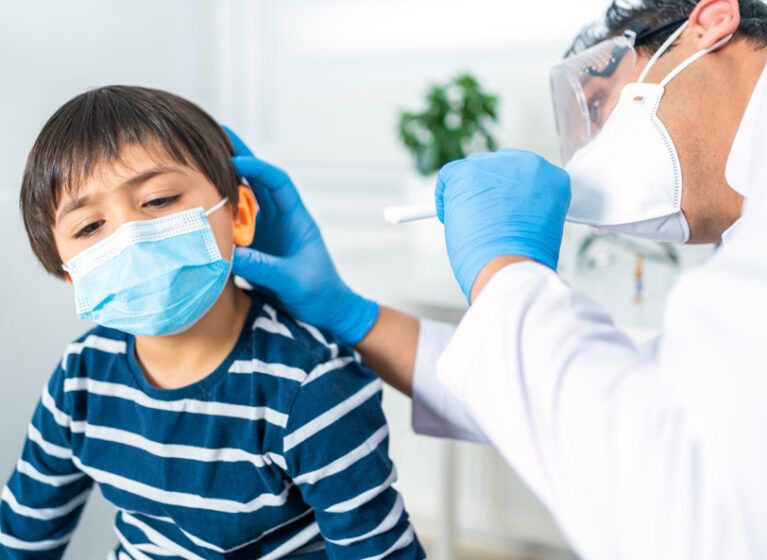 It can be difficult to administer hearing tests using standard protocols for children with developmental delays or intellectual disabilities, including autism and Down syndrome. Two audiologists at UVA Health, Debra L. Hildebrand, AuD, and Melissa Anne McNichol, AuD, have developed an innovative program for conducting hearing tests in this patient population. In the vast majority of cases, their techniques allow the audiology team to assess the patient's hearing while avoiding the use of auditory brainstem response (ABR) assessment.
Avoiding the Risks & Costs Associated With ABR Assessment
Hildebrand notes that as a high-ranking university teaching hospital, UVA Health receives referrals from across the state to conduct hearing assessments in children who are language delayed. "It's important to know if these language delays are caused by hearing loss and, if so, to fit the child with a hearing aid or Baha system," she says.
ABR is effective at assessing auditory function. However, because it requires sedation, parents are understandably reluctant for their children to undergo this testing. There are also large costs associated with ABR, in terms of both money and resources. According to Hildebrand, the techniques that she and McNichol have developed have allowed 95% of patients with developmental delays or disabilities, including those referred to UVA Health specifically for ABR, to avoid this test.
Behavior Modification Techniques Help Elicit Responses
The innovative methods employed in the clinic are based on the skills and experience that the UVA Health team has gained through years of working with children, including those with developmental delays and other communication disorders. The customized techniques are designed to meet each child where they are.
The children who attend the specialty audiology clinic may exhibit fearful, resistant, or combative behaviors. They may also be absorbed in internal narratives, making it difficult to get and maintain their attention long enough to conduct hearing tests. Hildebrand and McNichol use behavior modification techniques and principles based on operant conditioning therapy to help manage interfering behaviors and elicit regular responses to auditory stimuli.
The audiologists may use toys, bubbles, or other motivators to encourage children to respond to sounds and to positively reinforce their behavior when they do respond. Other motivators may include high fives, music, or picking up the child and moving them toward an object like a stuffed animal.
"The parents are an important part of these tests," Hildebrand says. "We interview them to learn more about their child's developmental level, and then use that information to figure out how to get the child's attention and keep them calm throughout the exam."
The clinic's aim is to obtain an audiogram from all patients. Whenever possible, the team also tries to perform a tympanogram and otoacoustic emission measures.
Teaming Up to Optimize the Process
One unique aspect of this process is that it requires two audiologists — one in the sound booth with the child and the other operating the equipment. Hildebrand and McNichol tag team in these efforts. A parent may also stay in the sound booth to help manage their child's behavior.
Another departure from a traditional hearing evaluation is that these exams generally last a full hour, compared with the standard 30 minutes. This allows the child time to adjust to the testing situation and to take breaks as needed.
The average age of patients seen in the clinic is between 2 and 4, but Hildebrand and McNichol have worked with children of all ages and also some adults. Because Down syndrome in particular is associated with problems of the middle ear, some patients may require periodic follow-up testing.
The clinic launched in 2016 with half days once a week. To help meet the demand, it has since expanded to a full-day clinic held each Thursday. Patients may be referred to the clinic by developmental pediatricians, pediatric otolaryngologists, or speech pathologists.
"It's so rewarding to be able to help these children, especially those who do end up being fitted for hearing aids," Hildebrand says. "In addition, the feedback we get from the parents of these children is overwhelmingly positive, especially because they are able to witness firsthand how their child responds to sound."