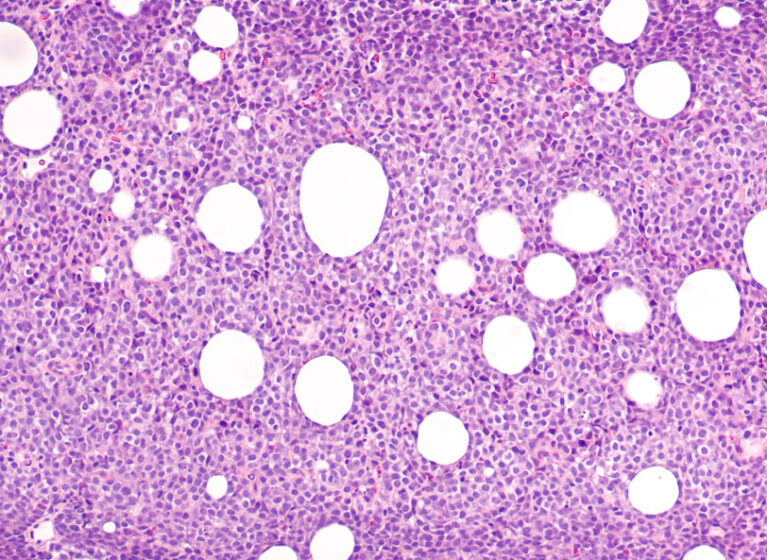 It's not good news, but it could change how you treat your patients. Research from UVA Cancer Center questions the utility of methotrexate-based strategies to prevent central nervous system (CNS) progression in diffuse large B-cell lymphoma (DLBCL). But the physician who led the study says MTX still has a role in CNS prophylaxis.
Regardless of the method used, MTX didn't provide meaningful CNS protection. This was the conclusion of a UVA Cancer Center study that represents one of the largest analyses in the rituximab era of CNS prophylaxis recipients with DLBCL.
"Our study, as well as a few other studies, have essentially said that MTX-based CNS prophylaxis is not helping as much as we thought it was. In our attempt to prevent the rare, but devastating, side effect of progression to the brain or spinal canal, we may be doing more harm than good," says Craig A. Portell, MD.
He's a hematology-oncology physician and researcher at UVA Cancer Center, home to Virginia's only National Cancer Institute-designated Comprehensive Cancer Center.
UVA Study: No Added Benefit for High-Dose MTX Method
In their study, Portell and his team evaluated real-world outcomes from UVA Cancer Center and 20 other U.S. academic institutions. They reviewed 1,162 adult patients who received CNS prophylaxis between 2013 and 2019 as part of frontline therapy for aggressive non-Hodgkin lymphomas.
The UVA Health study, published in Blood, found:
No added benefit to using systemic high-dose (HD) over intrathecally (IT) MTX prophylaxis
Route of CNS prophylaxis did not affect CNS relapse rates
Testicular involvement, non-GCB subtype, and a high extranodal burden predicted increased CNS risk despite MTX-based prophylaxis by either route
"Our data provided a key contribution to this literature, noting that route of prophylaxis does not appear to meaningfully impact the ability to prevent CNS relapse in DLBCL," the authors write.
Not Yet Time to Abandon CNS Prophylaxis With MTX
Portell notes that some oncologists have abandoned CNS prophylaxis with MTX. It still plays a role in certain patients, he shares in an editorial he authored in the journal Blood.
His editorial appears in the same issue as the results of another key study that analyzed the timing of high-dose methotrexate CNS prophylaxis in DLBCL. "With the currently available data, intravenous HD-MTX should be limited to end of therapy and to patients with the highest risk," Portell writes.
MTX therapy still offers protection for patients with extranodal disease in their testes, kidneys, or adrenal glands. Portell further advises that this therapy be given for at least 2 cycles and be reserved for fit patients.
Finally, anthracycline-based immunochemotherapy should always take priority over CNS prophylaxis. If it "delays or otherwise interferes with curative-intent immunochemotherapy, it should be abandoned," Portell writes.
What Does the Future Hold for Preventing CNS Involvement?
Portell isn't discouraged by these findings. "While what we discovered is not good news," he says, "I think it helps the medical community save patients from the toxicity of these treatments. I'm hopeful that the study we led and other studies published this past year are going to move the field forward."
Therapies directed at the biology of DLBCL will one day likely replace MTX-based strategies for CNS prophylaxis. Small-molecule inhibitors have a chance of reaching the CNS through the blood-brain barrier, he notes.
He adds that ibrutinib, lenalidomide, and other agents may be effective in preventing secondary CNS progression. New classification systems focused on DLBCL biology will aid in choosing the best therapy.
Testing cerebrospinal fluid for tumor DNA or peripheral blood for circulating tumor DNA, Portell adds, will help oncologists better sort out the rare but extremely high-risk patient, who warrants additional treatment.