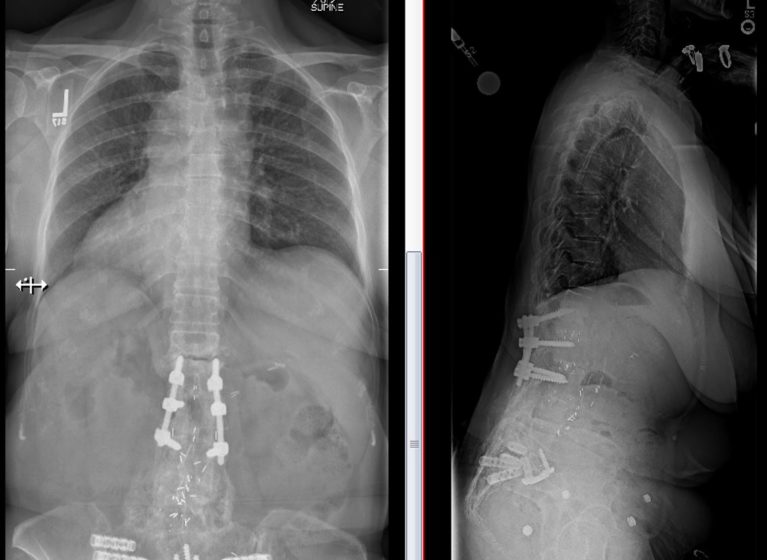 More than 1,500 spine procedures are performed each year at UVA Health by some of the leading spine specialists in the country. A significant number of these procedures are revision surgeries necessitated by a failed implant or hardware, the formation of scar tissue at the surgical site, surgical error or other complication. These revision surgeries require more complex decision making, surgical planning and skill to repair damage, restore mobility and reduce pain.
According to orthopedic surgeon Xudong Joshua Li, MD, the more procedures a patient has had, the more challenging the repair. The patient featured in the case study below came to UVA for her sixth spine surgery, making this surgery one of his most ambitious cases yet. Read more about the outcome below.
Case Study: Proximal Junction Failure
Patient: 74-year-old female
Evaluated by: Orthopedic surgeon Xudong Joshua Li, MD
Diagnosis: Proximal junction failure and flat back without a natural lumbar curve
The patient arrived at UVA Health in 2019, two years after her fifth spine surgery, which was completed in Florida.
"Her initial surgeries were for back pain," says surgeon Xudong Li, MD. "The surgeons started with a fusion of the lower spine and she developed junctional problems. She then had another surgery and another to relieve pain. It's unusual for someone to have this many surgeries."
"Her spine was fused almost straight from L1 to S1. She had no natural curvature in her spine, so she was walking leaning forward and she was in a lot of pain," Li adds. "There was a screw cutting into the bone and a disc was breaking down."
(Shown above: AP and Lateral Xrays of 74-year-old female after five spine fusion surgeries and SI joint fusion. She has sagittal imbalance and flat lower back with fused spine from L1-S1)
Treatment: L4 pedicle subtraction osteotomy and spinal fusion from T10 to the pelvis
"We made a detailed surgical plan, measuring the curve of her whole spine and spinopelvic angles and custom designed the curve of the rods. We had the advantage of using a robot to plan every screw placement prior to the surgery," explains Li.
"Because her spine was fused straight, I had to first break down the fused spine or fracture it," says Li.
Li then made a wedge-shaped cut, removed the L4 pedicle and then closed the gap to create a 25-degree curve in the patient's spine. "The patient was on a bed that can flex and extend during the surgery, which helped us to close the gap and give her a more natural curve," he says.
Outcome: Much improved spine alignment and no pain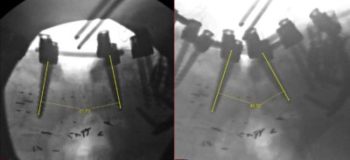 After a period of rehabilitation and physical therapy to restore her mobility, the patient was able to walk upright and was completely pain-free in the back at a follow-up appointment six months after the surgery. It is first time in the last 15 years that she does not need pain medication.
"She is now back in Florida," says Li. "I give my cellphone to all my patients who have surgery with me. She texted me last week that she was doing well."
"The complexities of this surgery make it a standout case," adds Li. "It's another example of how the right technology and surgical expertise can result in good outcomes even for complex patients."
To refer a patient to UVA Health, call UVA Physician Direct at 800.552.3723.