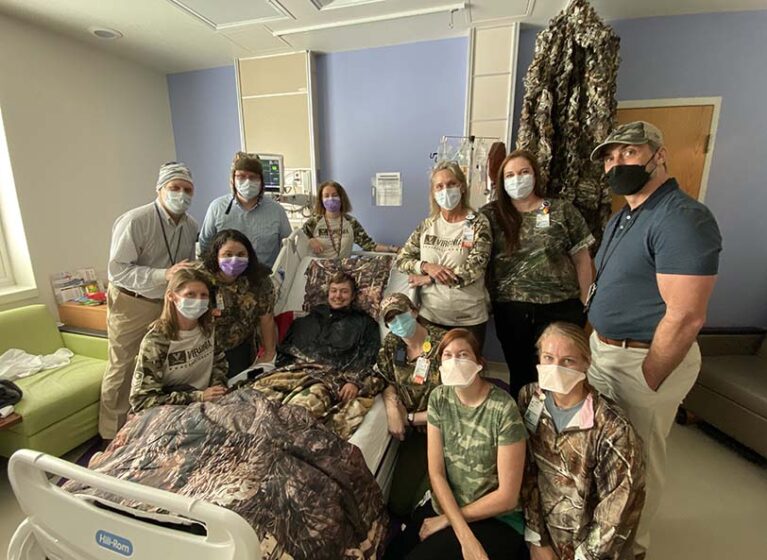 UVA Children's recently completed its first autologous pediatric stem cell transplant — an important early milestone in building its Pediatric Hematopoietic Stem Cell Transplant and Cellular Therapy Program.
The transplant marks an important step toward the program's goal to meet a significant unmet need for Virginia children and families — a high-quality stem cell transplant program close to home. Currently, 85% of Virginia children needing allogeneic transplants travel outside the state to receive them. That means uprooting children and caregivers to move hours away from their social support systems for more than 100 days — piling more hardships on an already difficult situation.
"Bringing stem cell transplant and cellular therapies back to UVA Children's after two decades was one of my highest priorities when I joined the team here," says Michael Engel, MD, PhD, chief of pediatric hematology/oncology. "Our patients and families are entitled to receive exemplary, cutting-edge care close to home. They should also feel cared for while it happens."
Delivering High-Quality Care Close to Home
With this first transplant, the team demonstrated the significant benefits it can provide Virginia children and families.
The patient began treatment for Hodgkin's lymphoma at UVA Children's at age 11. After a 7-year remission, he relapsed at age 18. The team proceeded with a preparatory chemotherapy regimen followed by autologous stem cell transplant.
"He loves hunting, camping, and being out in the woods," Daniel "Trey" Lee, MD, one of his doctors, says. "He's doing so well that we keep having to rein him in because he's still immunocompromised."
A transplant at UVA Children's allowed the family to temporarily relocate to Charlottesville, a smaller, easier-to-navigate city an hour from their rural Virginia home instead of a large city in another state. A local nonprofit, Yellow Door, provided comfortable housing suitable for an immunocompromised patient at no cost to the family. It was close enough for his family to visit and provide emotional support, a critical aspect of recovery. His father was able to keep working and also see his son.
"Every patient should have the opportunity to stay close to their family, home, and support system while they navigate a life-changing medical diagnosis," says Sarah Gunnoe, PA, recruited to UVA Health from Fred Hutchinson Cancer Research Center in Seattle, Washington. "As a program, our goal is to provide that opportunity."
Meeting Each Patient's Unique Needs
In addition to his medical needs, the team made the patient's social needs a high priority. They decorated his hospital room with camo and netting and outfitted a nearby lounge with personalized entertainment options to help him pass the time. On his transplant day, the whole team dressed in camo to show their support.
"Our goal is to meet each patient's individual needs rather than provide just one cookie-cutter type of experience," Lee says.
Moving forward, the team will prioritize strong communication with referring providers to further ensure patients' individual needs are met.
A Leader in CAR T-Cell Therapy
A critical aspect of the program is the availability of newly discovered CAR T-cell therapy for children with leukemia and lymphoma. "We have been treating children with CAR T-cells here at UVA since 2017," Lee says. "We take the same personalized approach with our CAR patients as we do with our stem cell transplant patients."
Lee, program director, is an innovator in immunotherapy who joined UVA Children's after 3 years as a clinical investigator at the National Institutes of Health Pediatric Oncology Branch.
He was among the first in the world to treat children with CAR T-cell therapy at the NIH. Lee helped discover associated cytokine release syndrome, an acute inflammatory syndrome characterized by fever and multiorgan dysfunction. He co-led the publication of international consensus guidelines for treating the syndrome, broadly used across the globe today.
UVA Children's is now the only program in the region to offer both FDA-approved CAR T-cell therapy and clinical trial versions for relapsed and refractory childhood leukemia and B-cell lymphoma.
Lee continues to investigate ways to treat pediatric and adult solid tumors with CAR T-cell therapy.
Expanding Care for Nonmalignant Diseases
Philip Roehrs, MD, clinical director for the program, is a leader in reducing post-transplant mortality and treating nonmalignant disorders with stem cell transplant. He directed pediatric stem cell transplant programs at Levine Children's Hospital in Charlotte, North Carolina, and UNC Children's in Chapel Hill, after training at Cincinnati Children's.
Roehrs brings a rare skillset to UVA Children's — extensive experience treating nonmalignant conditions in children using allogeneic bone marrow transplant. These include immunodeficiency disorders.
"The number of these conditions has expanded exponentially in the past decade," Roehrs explains. "There are more than 500, many of which are life-threatening or life-shortening and are potentially cured with bone marrow transplant."
When the UVA Children's program expands into allogeneic transplants, it will be one of the few centers with expertise and experience needed to provide them to children with immunodeficiency disorders.
"They often have more transplant-related complications and risk of infection," Roehrs shares.
Allogeneic stem cell transplant is also an effective treatment for some blood disorders, including sickle cell disease, beta thalassemia, and aplastic anemia and metabolic disorders.
Transplant-Associated Thrombotic Microangiopathy
Roehrs was also part of the team at Cincinnati Children's that discovered transplant-associated thrombotic microangiopathy (TA-TMA).
If not recognized and treated early, it can cause permanent renal injury or death. It occurs in about 25-30% of pediatric patients after allogeneic transplant and 10% after autologous transplant.
Experience is important as TA-TMA can be difficult to detect early.
Roehrs' leadership and experience with TA-TMA gives the UVA team an edge. As he explains, "Our UVA Children's team is at the forefront of understanding this condition, diagnosing it early, and offering effective treatments."