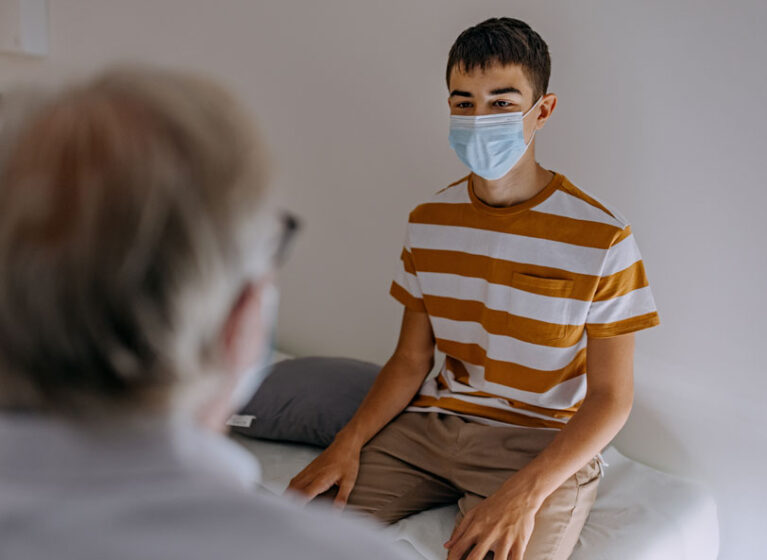 Finding the correct diagnosis and treatment for younger people with multiple sclerosis (MS) and related neuroimmunologic disorders can be particularly challenging. Fortunately, UVA Children's has a dedicated Pediatric and Young Adult Multiple Sclerosis Clinic to care for these patients. The only clinic in Virginia devoted to this patient population, it is led by child neurologist J. Nicholas Brenton, MD.
Rare Neuroimmunologic Disorders With Common Features
Pediatric MS is the most common condition that the clinic treats, but Brenton also sees patients who have other neuroimmunologic disorders with symptoms that can mimic MS. These conditions include optic neuritis (or inflammation of the optic nerve) and transverse myelitis (or inflammation of the spinal cord).
The clinic also treats myelin oligodendrocyte glycoprotein antibody-associated disease (MOGAD), which is characterized by inflammation in the central nervous system. Although this condition has similar clinical features to MS, it has recently been recognized as a unique disease entity due to its distinct underlying cause and prognosis.
A Mission Grounded in Expertise
After completing his residency at UVA Health, Brenton pursued fellowship training in pediatric epilepsy at Nationwide Children's Hospital/The Ohio State University, followed by specialized training in the field of pediatric MS and related disorders at the Children's Hospital of Philadelphia. He launched the pediatric MS clinic in 2014 after returning to UVA Health.
"In prior years, pediatric neurologists would often defer the management of children with MS and other neuroimmunologic conditions to adult MS doctors due to their rarity in pediatrics," he says. "I truly wanted to acquire expertise so that I could serve as a resource for the accurate diagnosis and treatment of these disorders in children."
Why the Right Diagnosis Matters
Brenton stresses the importance of getting the correct diagnosis in pediatric patients with neuroimmunologic disorders. "It's challenging, because there are a lot of mimickers for these types of disorders," he says. "You want to be sure that you've got the correct diagnosis before you label a child with a chronic neuroimmunologic condition like MS."
Additionally, an accurate diagnosis is vital for ensuring patients receive the proper treatment. Several studies have shown that MS therapies are not effective in children with MOGAD, for example. The clinic provides primary evaluations for patients who have recently begun to experience symptoms as well as second and third opinions for patients coming from outside institutions.
"Many of these mimicking conditions are monophasic, meaning they are a one-time event and do not recur," Brenton says. "Others, including MS, are relapsing disorders that require lifelong treatments."
Collecting a full medical history is an important part of the diagnosis. This includes discussing:
The onset and course of symptoms
Past symptoms, which may have been ignored
Preceding or associated infectious symptoms, because some infections can mimic MS
A detailed neurologic examination, MRIs of the brain and/or spinal cord, blood tests, and analysis of spinal fluid also are crucial in diagnosing these conditions and ruling out alternative diagnoses.
Expanding Available Treatment Options Through Clinical Trials
A number of medications have received approval from the U.S. Food and Drug Administration to treat MS in adults, but only one is approved to treat MS in pediatric patients: fingolimod (Gilenya®).
Fingolimod is an oral drug, but other treatments are given as infusions or intramuscular/subcutaneous injections. "It's difficult for teenagers to give themselves injections, so most of our patients are taking oral therapies or receive infusion therapy," Brenton says.
Brenton and other pediatric MS specialists frequently use drugs approved to treat adults off label in pediatric patients. Many of these treatments are also being investigated in pediatric clinical trials. UVA Health has been and currently is a site for a number of pediatric MS clinical trials. The program also offers a variety of clinical research studies for these children and their families.
"Our clinic has a dedicated nurse, and we work with a pharmacist who specializes in MS therapies," Brenton says. "We work together as a team with the patient and their family to pick the right medicine for them."
Other clinical research at UVA Health is looking at best practices in caring for pediatric patients with MS as well as risk modifiers of disease severity, including obesity and other environmental factors. Brenton has a grant from the National Institutes of Health to study the impact of body mass composition on the course and presentation of MS in children.
Pediatric MS Patients Receive Comprehensive Care at UVA Children's
Pediatric MS and related disorders cause patients to need other care, especially in the acute setting. Common components include physical therapy, occupational therapy, neuropsychologic testing, ophthalmologic evaluation, and urologic care.
Mental health counseling is also important for both patients and their families. "Everybody in the family is affected by this kind of diagnosis, and patients and their family members may have different needs," Brenton says. He adds that one important aspect of his clinic is connecting patients and their families with each other for peer-to-peer support.
Brenton also works with patients as they move from pediatric to adult care, helping them to find neurologic care as they age out of his clinic. "I don't want these patients falling through the cracks," he says. "The transition must be successful, and I will do everything I can to ensure that happens."