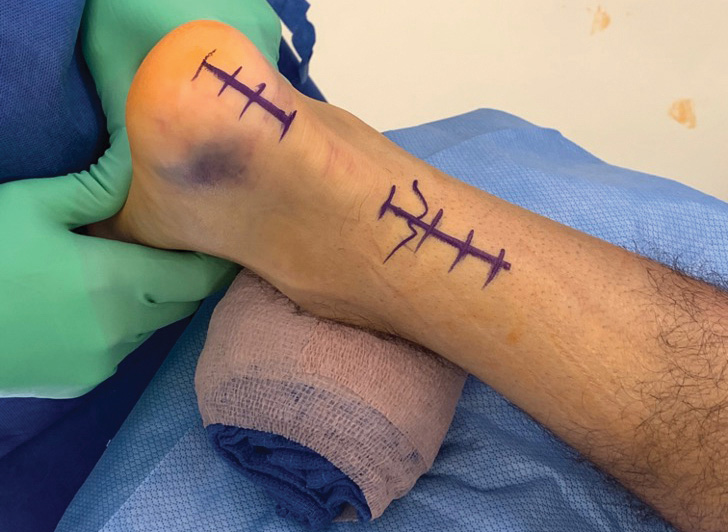 UVA Health foot and ankle surgeons care for the University of Virginia and James Madison University athletic departments. Providing orthopedic expertise on the playing field has spurred the development of several treatment advances and innovative techniques now incorporated into patient care.
Through these relationships, led by Joseph S. Park, MD, and M. Truitt Cooper, MD, UVA Health has developed a regional leadership role in advancing the treatment of sports-related injuries to the foot and ankle.
A New Approach to Treating Syndesmotic Ankle Injuries
For decades, orthopedists treated high ankle sprains, a common occurrence in football, without surgery. But then a shift toward surgical intervention occurred. "We never fully appreciated that even subtle instability of the syndesmosis, if left alone, results in prolonged recovery and may even lead to arthritis and cartilage damage," Park says. "Now we fix the syndesmosis operatively when we think it's unstable. Increased use of arthroscopy has really improved our ability to properly diagnose these injuries appropriately."
Some surgical options for syndesmotic injuries, however, have significant drawbacks. Traditional screw fixation, for example, carries the risk of malreduction and screw breakage afterwards. Flexible syndesmotic fixation, meanwhile, requires drilling potentially destabilizing large-diameter holes. While this can be mitigated with techniques such as the use of a plate, it still may not address the actual instability directly.
To address these concerns, UVA Health is employing innovative techniques that prevent damage while avoiding surgical downsides. These techniques, including the direct reconstruction of the anterior inferior tibiofibular ligament, enable injured athletes to return to play faster, with no or minimal decline in performance.
Park notes that UVA Health was also an early adopter of repairing deltoid ligament tears (which often occur simultaneously with syndesmotic injuries) and performing arthroscopy at the time of ankle fracture fixation. "Fixing the deltoid ligament is directly involved in improving the function of the ankle to get these players back to sports," he says.
UVA Health now routinely takes this same approach to treat patients who aren't elite athletes.
Faster Healing for Achilles Tendon Rupture
Sixty years ago, a patient with a ruptured Achilles tendon would spend up to 12 weeks in a cast before beginning to walk again. We now know this approach leads to abnormal healing and a high rate of re-rupture.
More recently, the orthopedic field has shifted its focus. Instead of a long period of immobility, experts encourage patients to extend their range of motion and perform weight-bearing motions early on in the healing process. UVA Health specialists thus employ a technique that entails inserting suture anchors into the heel bone. It has been shown to expedite a return to full activity in collegiate athletes and weekend warriors alike.
"I have used different variations of the technique that I feel are equally successful in allowing patients to start early range of motion," Park says. "For example, rather than making an incision right on the Achilles tendon, I make it more to the front or the inside part of the tendon. In the same way, I let patients move very aggressively at 2 or 3 weeks post-op."
Cooper and Park report that the suture-docking technique:
Requires smaller incisions
Lowers the risk of wound complication
Promotes better tendon healing in combination with early rehabilitation
A New Strategy for Lisfranc Injury
Cooper has conducted extensive research, including with UVA's Center for Applied Biomechanics, on Lisfranc injury. He reviewed many of the division's clinical cases of these injuries, which are common among football and soccer players. His aim: to understand the various injury patterns and determine effective treatment options.
Historically, treatment of Lisfranc injury has centered on the second metatarsal joint and the sprain interval. Cooper's research revealed the need for a different strategy.
"A quarter or possibly more of these injuries actually propagate up higher into the intercuneiform region, creating instability there," he says. "We have to appreciate the different injury patterns and treat these injuries accordingly."
Park says that rigid screw fixation, the traditional repair for Lisfranc injury, often creates stiffness that is frustrating for athletes. In response, UVA Health has begun using smaller drill holes and stronger sutures to:
Eliminate the need for screws
Increase flexibility
Maintain joint alignment
Restore normal motion of the joint
"The hope is that because there's normal motion, the scar tissue that forms — which simulates the ligament — is more robust, and you can maintain structural stability for these athletes," Park says. "And since we obviate the need for hardware removal later on, their rehab process is smoother, and they can get back on the field sooner."
Lessons Learned Have Broader Application
While UVA Health works extensively with elite athletes, Cooper stresses that he and his colleagues are applying what they learn to enhance the treatment of non-elite athletes as well.
"We're always trying to bring what we discover in terms of new technologies and techniques to the rest of the population," he says. "Yes, if you're a high-level college football player, you want to get back on the field as soon as you can after an injury. But if you're a 40-year-old factory worker who has a family to support, it's just as crucial to get through rehab and back to work as fast as possible."