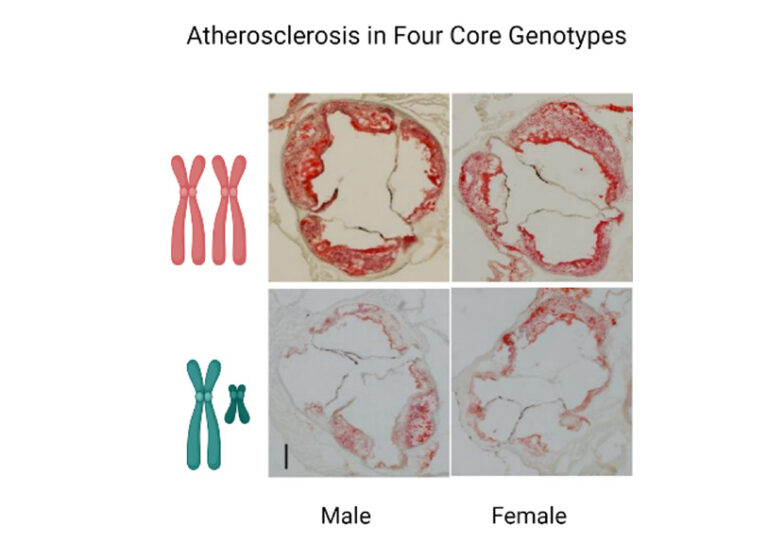 The Leducq Foundation awarded $15 million to researchers at UVA Health and their collaborators to advance our understanding of atherosclerosis and give us better ways to treat cardiovascular disease.
The prestigious Leducq Foundation funded a total of four projects worldwide for 2022, and two of those involve researchers at UVA Health. Leducq was already backing two other projects at UVA Health.
"To see this degree of support from the Leducq Foundation is astonishing. It really speaks to the caliber of cardiovascular research under way here at UVA," says Melina R. Kibbe, MD, dean of the UVA School of Medicine and UVA Health's chief health affairs officer.
The four Leducq awards put UVA Health on the international stage for its efforts to gain new insights and develop new therapies for cardiovascular disease, Kibbe says.
"It is exciting to see our researchers taking such diverse and enterprising approaches to understanding and combating atherosclerosis," she says.
We give a closer look at the Leducq-backed research initiatives at UVA Health.
Employing Immunotherapy Against Cardiovascular Disease
Coleen McNamara, MD, professor of medicine in UVA Health's Cardiovascular Division and director of the Beirne B. Carter Center of Immunology, is part of an international team advancing the use of immunotherapy to better treat atherosclerosis.
McNamara and her collaborators have identified five inhibitory immune checkpoints that are important in the development of atherosclerosis. Their goal is to direct these checkpoints to reduce harmful inflammatory responses.
"While medicine has made important advances in reducing heart attacks and stroke with lifestyle modification and cholesterol lowering, cardiovascular disease remains the leading cause of death worldwide. Clearly, other factors are involved, and the immune system has emerged as one of those factors," explains McNamara.
McNamara is driven by three overarching goals at her lab within UVA Health's immunology research center:
Discover novel immune-mediated mechanisms involved in cardiovascular disease
Identify new therapeutic targets to reduce cardiovascular disease
Design immune system-based diagnostics and biomarkers to aid in diagnosis, prognosis, and prediction of therapy response in cardiovascular disease
The new award from the Leducq Foundation is McNamara's second. She is also part of an international team that received $6.5 million in 2020 to study the role of B cells in cardiovascular disease.
Uncovering Key Sex Differences in Atherosclerosis
The foundation awarded $7.5 million to a global network led by UVA Health's Mete Civelek and Hester den Ruijter of University Medical Center Utrecht in the Netherlands.
Civelek and his collaborators are investigating important sex differences in cardiovascular disease.
Civelek is motivated to make a significant difference in combating a disease where women are overrepresented but have been traditionally understudied and underdiagnosed.
"We are working to find the underlying genetic, cellular, and molecular mechanisms of atherosclerosis in women compared to men so that we can target it better, either through repurposing existing drugs or finding new therapies," says Civelek of UVA's Department of Biomedical Engineering and Center for Public Health Genomics.
At Civelek's lab, his research team employs systems genetics to uncover the interactions among hundreds of genes and gene networks, along with environmental factors such as diet, that increase susceptibility to cardiovascular and metabolic diseases.
Civelek's Leducq-backed network will build upon their findings of:
Genetic differences for susceptibility to coronary artery disease among men and women
Certain genes expressed at different levels between men and women
Smooth-muscle cell and endothelial cell plasticity differences in men and women
Civelek says, "In women, we have evidence that endothelial cells become more mesenchymal-like cells and lose their integrity. In men, on the other hand, we think certain smooth-muscle cells play an important role because they have a major role in plaque stability."
By focusing on those two cell types, Civelek's network hopes to understand the distinct regulators of the cellular transformations that lead to cardiovascular disease.
Identifying Mechanisms to Prevent Plaque Rupture & Possible Heart Attack or Stroke
Gary Owens and collaborators are working to uncover the role of smooth-muscle cells (SMC), and other cells, in the formation and rupture of atherosclerotic plaques. His UVA Health lab has provided compelling evidence challenging the long-accepted dogma that SMC's primary role is athero-protective.
A pioneer in the cardiovascular research field, Owens directs UVA Health's Robert M. Berne Cardiovascular Research Center. He co-leads the Leducq Foundation PlaqOmics Network. This 8-laboratory international team "discovered novel mechanisms that regulate the stability of advanced atherosclerotic lesions and the probability they will undergo rupture or erosion," Owens says.
At his UVA Health lab, Owens' research team found that SMC play a much greater role in lesion pathogenesis than has been generally appreciated. "SMC can play either a beneficial or detrimental role in lesion pathogenesis depending on the nature of their phenotypic/functional transitions," he says.
A major focus of their current studies is to:
Identify factors, mechanisms, and potential therapeutic targets that promote beneficial and/or inhibit detrimental SMC phenotypic transitions within advanced lesions
Determine if mutations or gene polymorphisms that are linked to increased cardiovascular disease in humans may promote detrimental changes in SMC phenotype and their associated functions
Identify anti-inflammatory therapies that promote plaque stability without compromising disease resistance including therapeutic approaches that differ between men and women
Investigate the potential role of SMC and pericyte phenotypic transitions in the pathogenesis of microvascular disease associated with type 2 diabetes/metabolic disease and in regulation of tumor cell growth and metastasis