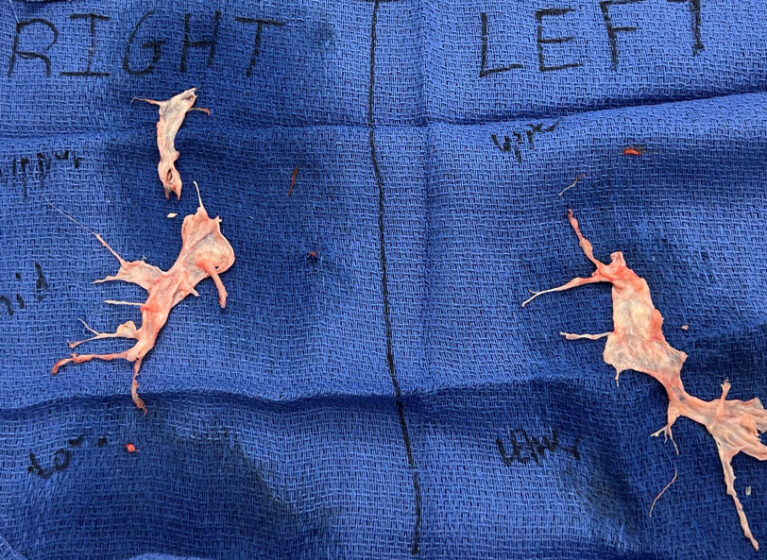 Chronic thromboembolic pulmonary hypertension (CTEPH) is hard — hard to diagnose, hard to live with, and hard on the heart. There's one positive, however: It's the only form of pulmonary hypertension that can be fixed surgically. UVA Health is one of a handful of places in the U.S. offering this potential fix: pulmonary thromboendarterectomy (PTE).
After years of planning, UVA Health had its first successful PTE, a key part of a new, comprehensive CTEPH program.

"This is one of the most complex cardiothoracic procedures we do," says thoracic surgeon Christopher Scott, MD. "But everything flowed seamlessly. We had a very good surgical outcome."
Why CTEPH Treatment Matters
Of the approximately 600,000 patients each year diagnosed with pulmonary emboli, only around 5,000 will go on to develop the scarring and narrowing of the pulmonary arteries that are indicative of this progressive form of pulmonary hypertension (PH). The rarity of CTEPH — and its often-ambiguous presentation — make it easy to overlook. Unfortunately, that means patients living with CTEPH can go undiagnosed for years.
"This is a condition that aggressively affects a patient's lifestyle," says pulmonologist Andrew Mihalek, MD. Like standard PH, right-sided heart failure is inevitable if left untreated. Yet, unlike other causes of PH, this condition can be fixed.
With a PTE procedure, surgeons remove the scar tissue from the pulmonary arteries. The surgery is challenging and high risk. Yet, according to cardiothoracic surgeon Nicholas Teman, MD, it's the best option when compared to medical therapy. "Compared to having chronic pulmonary hypertension and the symptoms that go along with that, I think that surgery is lower risk," he says.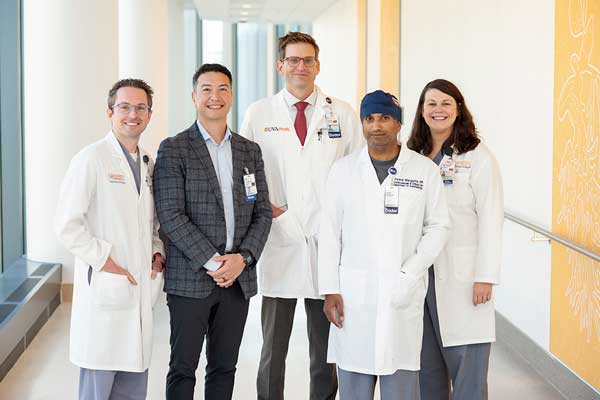 The team that helped UVA Health successfully perform its first PTE procedure. From left, Nicholas Teman, MD; Christopher Scott, MD; Andrew Mihalek, MD, Venkat Mangunta, MD; and Allison Kirkner, ACNP
Tailoring Care to Meet Complex Needs of CTEPH Patient
A Pulmonary Hypertension Association Clinical Center of Excellence, UVA Health has long had the expertise and resources in place to provide the advanced, comprehensive care CTEPH patients need.
They have the bench strength — the breadth of multidisciplinary skill and knowledge that comes from being one of the nation's top academic medical centers. But establishing a solid framework for the diagnosis and treatment of CTEPH patients, not to mention introducing a highly technical new procedure, meant taking a step back and evaluating these patients' complex care needs from every possible angle.
So began a multidisciplinary gathering of minds with the sole purpose of creating a comprehensive CTEPH program. In the room were experts from: pulmonology, cardiology, cardiothoracic surgery, nuclear medicine, radiology, vascular science, hematology, anesthesiology, critical care, and more.
According to Allison Kirkner, ACNP, each person brought something unique. "This has been a 7 a.m. meeting on the books once a month for the past two years. That's a lot to ask of someone," she says. "Everyone involved was willing to do whatever necessary to bring the most advanced therapies possible to our patients."
From these ongoing team discussions came best practices and protocols that shaped the CTEPH program at UVA Health, one of the few of its kind in the U.S.
"Patients with CTEPH can expect to be evaluated thoroughly and, if appropriate, offered medical and surgical treatment options. We provide all of this care efficiently at UVA Health," says Scott, whose prior PTE training and experience helped bring the surgery to UVA Health.
Successful 1st Pulmonary Thromboendarterectomy
With guidelines in place and after months of training for all team members on the key aspects of managing CTEPH patients medically and intra-operatively, planning was turned into practice. This meant preparing for the team's first PTE surgery, screening existing patients to determine who might be the best candidates.
Patients eligible for PTE surgery include those who have:
Confirmed diagnosis of pulmonary hypertension
Significant blood clot burden
Right heart failure resulting from the presence of a blood clot
Clots or blockages in vessels accessible via surgery
Limited comorbidities
An International Prospective Registry reports that 63% of CTEPH patients are operable. A longtime UVA Health patient, a 69-year-old woman and breast cancer survivor, was one of them.
"She had been dealing with symptoms of CTEPH for over a decade, and her lifestyle had really come to a complete halt. Even though she was on maximum medical therapy, she was still having symptoms and relied on continuous oxygen therapy," says Scott. "She was very happy to hear that there was a surgical option available in her own backyard."
A Closer Look: PTE Surgery
Prior to surgery, patients undergo many tests to confirm operability and to assess heart and lung function. These tests also provide surgeons with a roadmap to identify the location of the blocked arteries.:
Ventilation-perfusion scan (VQ scan)
Echocardiogram of the heart
CT with contrast
Pulmonary angiogram
Heart catheterization
The complex bilateral procedure can take up to 8 hours or more and requires:
Median sternotomy
Cardiopulmonary bypass
Deep hypothermic circulatory arrest
Removal of chronic blockages and clot within the pulmonary artery, extending to the small branches down into the lungs
The patient "sailed through" the very acute phase in the ICU after surgery, says Scott. The team followed her progress closely, implementing daily multidisciplinary rounds. She was out of the hospital in 7 days compared to the standard 14.
"These patients have the potential to be really, really sick in pretty predictable ways, and our team was prepared for any issues she may have encountered," says Kirkner.
Referral Base for Complete Management of a Rare Condition
"By that third day, there was a sense of relief and a sense of 'mission accomplished.' It's a startling thing to hear patients who have had this major surgery, who have been on a ventilator and in bed for multiple days, say: 'I already feel better.'"
"It didn't feel like it was the first patient," adds Teman. "It feels like we've been doing this for years because of all of our planning. We had all the pieces in place to handle the infrastructure, and at no point did we ever feel like we were unprepared for any surprises."
The UVA Heath team sees this patient's positive outcome as a bellwether for the program's future.

"Launching this program has been a great example of a multidisciplinary approach to a complex problem," says Scott. "A lot of people came together to build this and make this something that we can grow to benefit our own patients, but also allow us to be a referral base for other patients throughout the region. There aren't many centers in our area who offer this surgery and the comprehensive management of this rare condition."