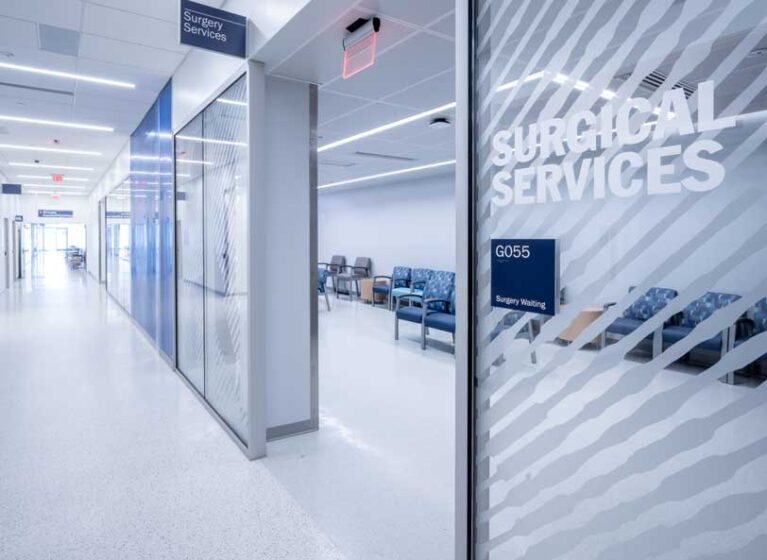 While hip and knee replacements have been performed as inpatient surgeries for decades, an increasing number are being performed as outpatient procedures, offering benefits not only to patients but also to healthcare systems. To meet patient needs, UVA Health recently completed an entire outpatient orthopedic surgery center that enables patients to receive care and meet with all providers of the care team in one convenient location. 
Ian Duensing, MD, a UVA Health orthopedic surgeon, says, "Outpatient joint replacement surgery is not appropriate for all. Patient safety is at the forefront of every decision we make. But outpatient joint replacement surgery has patient-specific benefits, such as increased patient satisfaction, lower risk of adverse events, and the ability to recover in the comfort of their own homes." 
In addition, studies suggest that outpatient surgery can help reduce the rate of patient complications and hospital readmissions, compared with inpatient total joint replacement.
Cost savings are also a benefit. "Some data indicate that outpatient total joint replacement helps to save thousands of dollars per case. This has an enormous impact on our health system, especially when multiplied by the number of cases performed at the outpatient center each month," says Duensing.
How Surgeons at UVA Health Navigate the Transition
UVA Health surgeons use specific patient selection tools to help determine which patients are appropriate for outpatient surgery. The outpatient arthroplasty risk assessment score is crucial, as is a review of each patient's comorbidities, age, and support structure.  
The UVA Health joint replacement division utilizes a dedicated outpatient facility at the UVA Health Orthopedic Center Ivy Road. At this center, patients can see each member of the surgical care team, often during the same visit. This helps ensure continuity of care and enables the entire healthcare team to reach patient care decisions together.  
Duensing explains that the institution takes a multifaced approach to total joint replacement, with each member of the surgical team "buying in." He says, "Once a patient is indicated for surgery, we begin patient education and put them on an optimization pathway. We provide detailed perioperative education and help coordinate preoperative clearances to prepare patients for surgery."
"On the day of the procedure, patient safety and comfort are prioritized. We use multimodal anesthesia techniques when prepping patients for their procedures. Following surgery, our in-house physical therapy team ensures patients are safe for discharge from a mobility standpoint," says Duensing. 
Following hospital discharge, weekly phone calls allow surgeons to engage with patients on a frequent, consistent basis. It reaffirms UVA Health's commitment to good surgical results, but also helps to identify and mitigate any problems that might arise.
To date, surgeons at UVA Health have performed approximately 700 outpatient hip and knee replacements at the Ivy Road facility. The state-of-the-art surgical suites, coupled with a knowledgeable and committed perioperative staff, help to optimize patient outcomes and enhance the patient experience, leading to greater satisfaction and success.
Tips for Other Centers Considering Outpatient Total Joint Replacement
Duensing shares some tips for other healthcare providers and institutions navigating the transition to outpatient total joint replacement. He says, "Patient safety and patient outcomes must be at the forefront of every decision made when moving any services to the outpatient arena. However, a multi-faceted approach to perioperative optimization, education, reassurance, frequent post-op patient contact, repetition of expectations, and team values is critical." 
He also notes that patient selection may be the most important predictor of success. "Identifying those patients who are too 'high risk' for outpatient surgery allows for stratifying those who may need more post-op needs. Those patients should be shifted to inpatient care where more resources can be allocated to reduce complications," says Duensing.
Offering outpatient hip and knee replacement is the culmination of a variety of improvements over a long period of time. Advances in surgical techniques, perioperative anesthesia, multimodal pain management, and accelerated rehabilitation have all impacted the average hospital length of stay. However, it is still critically important to evaluate the clinical implications for each patient as the move from inpatient surgery is considered.
"Patients with increased and cumulative medical comorbidities, advanced age, and lack of postoperative support at home are some of the relative contraindications to outpatient surgery. We consider each of these factors individually when making treatment decisions," says Duensing.