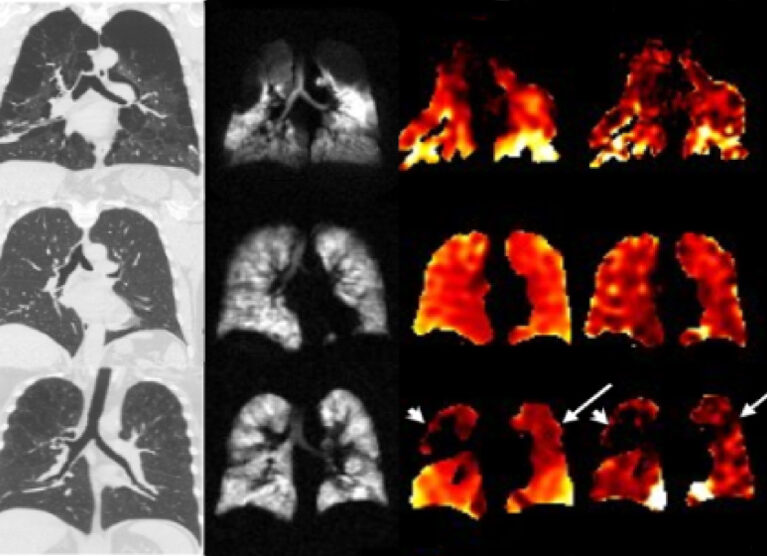 An imaging tool technique pioneered at UVA Health is capable of acquiring high-resolution 3D images of pulmonary gas distribution and gas exchange capacity — a major advance in diagnosing pulmonary diseases.
Hyperpolarized xenon MRI (HXeMRI) is only available to patients through clinical research, but the FDA is currently reviewing data and could approve the technique in the coming year.
"This could be huge," says Y. Michael Shim, MD, a UVA Health pulmonologist. He's part of a multidisciplinary UVA research group that's done extensive NIH-funded research on hyperpolarized MRI for more than two decades. Shim specializes in COPD and helped UVA become the first academic medical center to receive disease-specific certification from The Joint Commission for advanced COPD care. UVA has maintained this certification over several 2-year recertification cycles.
Overcoming Limits of Conventional Diagnostics
UVA research has demonstrated hyperpolarized MRI's ability to visualize regions of airflow obstruction and parenchymal disease in patients with pulmonary pathologies, including chronic obstructive pulmonary disease. In addition to COPD, UVA has used this technique to study interstitial lung disease and cystic fibrosis. UVA researchers are also using 3D HXeMRI to uncover concerning health implications of electronic cigarette use.
"With a xenon MRI scan, we can see exactly what part of the lung is having a problem and what type of problem. This is very sensitive and specific and can pinpoint exactly whether it's an airflow or blood flow problem," Shim says.
He adds, "It permits visualization and quantification of pulmonary physiology associated with alveolar tissue density, ventilation, perfusion, and gas-blood barrier thickness in the human lung."
HXeMRI would be a significant step forward considering major limitations of pulmonary function testing (PFT) and chest CT, including:
Uncoupled anatomic and functional information
Reliance on multiple, often metachronous, studies
Leading the World: 3,000 Procedures
Shim is excited to be able to offer HXeMRI to patients outside of a clinical research setting in the coming years, upon FDA approval. He sometimes does 4 procedures a week. Patients have traveled from around the country to UVA for answers on a perplexing lung disorder.
"The science behind hyperpolarized MRI was discovered at Princeton. But the first and most extensive usage of hyperpolarized MRI in patients has happened here at UVA," Shim says. "We've done about 3,000 MRIs to help diagnose lung diseases. Up until a few years ago, we did more than all the other centers in the world combined," Shim notes. He adds, UVA's expertise in xenon MRI has been possible with the work of faculty from many departments, including John Mugler III, PhD, Jaime Mata, MS, PhD, Wilson Miller, PhD, and Craig Meyer, PhD (named a fellow of the National Academy of Inventors).
Faster Gathering of Key Clinical Data
Unlike a typical MRI scan that can take up to 1 hour, an MRI using xenon (129Xe) gas takes only 10 seconds, as a patient inhales and holds their breath. The hyperpolarized gas lights up areas of the lung where air moves and diffuses into lung tissue and blood circulation.
Shim explains: "In one breath, you can measure how air is moving, how the interstitial lung tissue is working, and how blood flow is working."
Uncovering Gas Exchange Impairment in COPD
In a pilot study of 34 patients with COPD, HXeMRI revealed that 1/3 of the participants have an oxygen-acquiring problem. "Why this is important is because the inhaler we're giving COPD patients will do little to help with this blood-flow problem. So we need to figure out a better strategy," says Shim.
"Reporting on the relationships between conventional COPD multimodality metrics … and HXeMRI indices, we demonstrate the capability of HXeMRI to spatially and physiologically resolve functional defects, instantiated in the COPD trait of gas exchange impairment out of proportion to emphysema extent," write Shim and fellow authors in study findings recently published in Thorax. With data from this study, Shim and the research team are applying for NIH funding to do a larger multicenter study.
UVA is also taking part in an international multicenter study to see if HXeMRI can predict exacerbations in COPD patients. The study recruited its first patient in November.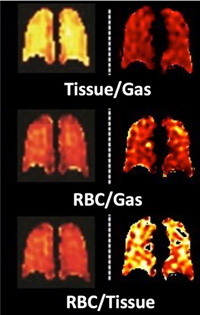 HXeMRI Reveals Subclinical E-Cig Effects
Compared to HXeMRI images of young healthy lungs (left), young e-cig user lungs (right) have abnormally low tissue gas exchange (red). To compensate, there's increased blood flow, as shown by yellow (bottom right).

Potential Significant Health Effects of E-Cig Use
In a recently published pilot study, UVA researchers found that although young vape users have a normal CT lung scan and PFT, the HXeMRI revealed they had decreases in gas uptake by tissue and blood. "In order to compensate for this, they were flowing double the amount of blood to catch oxygen," notes Shim.
Given vaping's widespread use and immense popularity among teenagers and young adults, there is major concern over its long-term health impact.
In their pilot study, the UVA researchers write, "We anticipate that HP129Xe MRI can help characterize early-stage pulmonary pathophysiology in three distinctive microcompartments of the e-cigarette users' lungs: airspaces, alveolar-interstitial tissues, and capillaries. This knowledge can inform us about subclinical but potentially significant health effects related to e-cigarette use."
Enrolling E-Cig Users in a Pivotal Study
Along with Duke University, UVA Health is actively recruiting 21- to 30-year-old e-cig users for a 2-year study using HXeMRI to look for lung damage from vaping. The Duke and UVA research group has also applied for NIH funding to do a 5-year trial to further assess e-cig's long-term pulmonary impact.
Shim says, "I think the FDA is really interested in these studies, which are needed before health warnings can be added to e-cigs that are marketed as a 'safe' alternative to cigarette smoking. It took 30 years of research before warning labels were put on regular cigarettes. Hopefully, with better diagnostic technology it won't take that long with e-cigs."