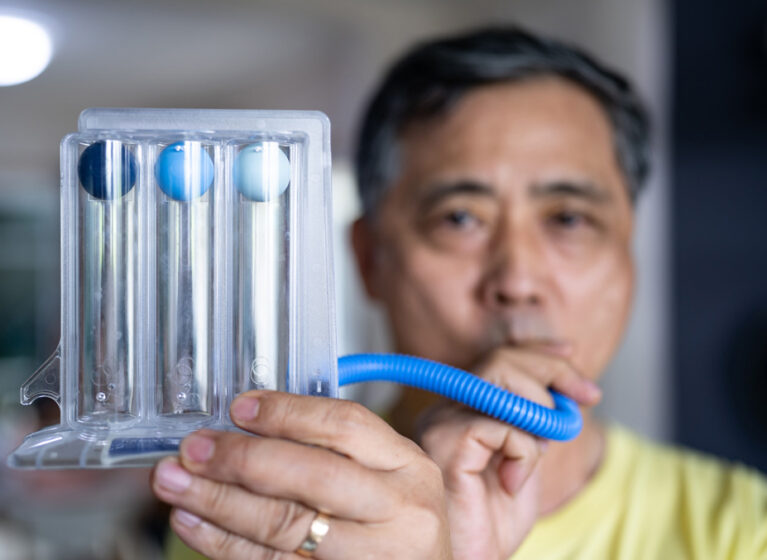 When the COVID-19 pandemic hit, UVA Health's Adult Cystic Fibrosis Clinic quickly transitioned from the classic CF care model to one that included multidisciplinary telehealth visits. The clinic earned national attention for getting almost 100% of their patients set up at home with a spirometer and providing results during telehealth visits — all within 6 months.
"Most teams have a 30 to 40% utilization of home spirometry, so we've had a lot of national recognition for our success with home spirometry," says UVA pulmonologist Dana Albon, MD, director of the UVA Adult Cystic Fibrosis Clinic.
Even more impressive are her team's findings just published in the journal Chest. "We were able to preserve lung function and preserve patient outcomes during the pandemic," Albon says. A summary of their findings were featured by Healio Medical News.
"Our study published in Chest is super reassuring from a lung function perspective and in exacerbation rates," Albon says. "We were able to maintain the same outcomes as face-to-face care, and that helps make the case for telehealth for cystic fibrosis care in the future."
UVA Pulmonology Leads in Subspecialty Expertise
UVA's Cystic Fibrosis Clinic is one of several subspecialty clinics within the department of pulmonology. In addition to cystic fibrosis, UVA Health has national leaders in interstitial lung disease, COPD, and COVID's impact on long-term health.
Highly regarded in the cystic fibrosis field, Albon has 39 published manuscripts and more than 60 citations at Publons, which tracks the impact of research. She's a member of the leadership team of the CF Learning Network, consisting of 39 teams that collaborate in quality improvement (QI). This team wrote a collaborative manuscript analyzing QI processes in telehealth and hopes to publish its findings later in February 2022.
An expert in other rare lung diseases, Albon is among only a few pulmonologists in Virginia listed as an expert of nontuberculous mycobacteria by NTM Info & Research. And, because of her expertise in primary ciliary dyskinesia (PCD), UVA is one of only 30 designated PCD Foundation centers that serve as a focal point for diagnosis, research, treatment, and data collection. UVA is also designated by the PCD Foundation for pediatric care.
96% of Patients Provide Spirometry Results Via Telemedicine
At the pandemic's beginning, only 37% (49/131) of UVA patients owned a home spirometer (HS) and only 50% (9/18) of patients using telemedicine performed spirometry at home.
Faced with an unprecedented public health threat, the UVA clinic team set up a quality improvement project with ambitious goals. By end of 2020, they hoped to increase:
To 85% eligible adult CF patients who owning an HS
To 95% the adult CF patients seen via telehealth, providing results through a home spirometer
The team surpassed these goals ahead of schedule. "By September 2020, 97% of adult patients at UVA owned an HS, and by October 2020, 96% of patients provided spirometry results during their telemedicine encounters," the UVA research team wrote in their study, published in BMJ Open Quality.
Telehealth to Remain Part of CF's Care Model
Albon wasn't surprised by the success of the clinic's transition to telehealth: "We collect and monitor our data on a weekly basis, and we have weekly team meetings," she says. "So we knew we had very good data on lung function stability and exacerbation rates. With our QI processes, we always want to achieve a certain number, and if we don't, we adjust and reassess constantly to achieve what we need to."
After analyzing data from 110 participants from March 17, 2020, through March 16, 2021, the UVA researchers concluded: "This CF care model which includes interdisciplinary telemedicine, successfully monitored lung function and BMI, identified exacerbations, and followed guidelines-based care during the pandemic. A significant decrease in antibiotic use suggests social mitigation strategies were protective."
Telehealth needs to be studied in more detail, so Albon is applying for more funding. Each year, Albon is awarded $300,000 to $500,000 in grants from the Cystic Fibrosis Foundation, and she is working to secure R01 research funding from the NIH.
There are many barriers to overcome for a chronic care model that includes telehealth to be successful, but Albon hopes that further research will show telehealth increasing access to care, especially in rural areas. She adds, "I don't think we'll ever go back to what we did before. I'm part of a national working group on telehealth in CF. I think it's going to be part of the chronic care model for cystic fibrosis."
Sharing Best Practices for CF Care During COVID
Emerging from the COVID-19 pandemic as a model among cystic fibrosis programs, UVA has been sharing its practices with institutions across the U.S.
"Our multidisciplinary cystic fibrosis clinic for adults is considered one of the most successful teams in the CF network. Not only me, but team members in other specialties, including respiratory therapy, nutrition, psychology and social work, have been invited to present at national meetings. Our team also comprises a QI specialist, who is nationally recognized for her work. In addition, several patient partners and the CF adult patient advisory group are closely involved with the CF team QI work, advising on feasibility and importance of new QI projects from the patient perspective," Albon says.
Like other hospitals when the pandemic hit, the UVA adult CF clinic was impacted by furloughs and turnover. And yet, UVA seamlessly transitioned a large cystic fibrosis center from mostly in-person to telehealth clinical encounters. Patients were not only provided with home-based spirometry but one-on-one mentoring by a trusted senior respiratory therapist. Patients continued to have access to a multidisciplinary team that includes two dietitians, a social worker, and a psychologist.
Albon also credits her team's success to quality improvement processes long in place before the pandemic and maintained throughout. She encourages everyone on the team to make a significant contribution, including taking a turn at being a study lead author and presenter.