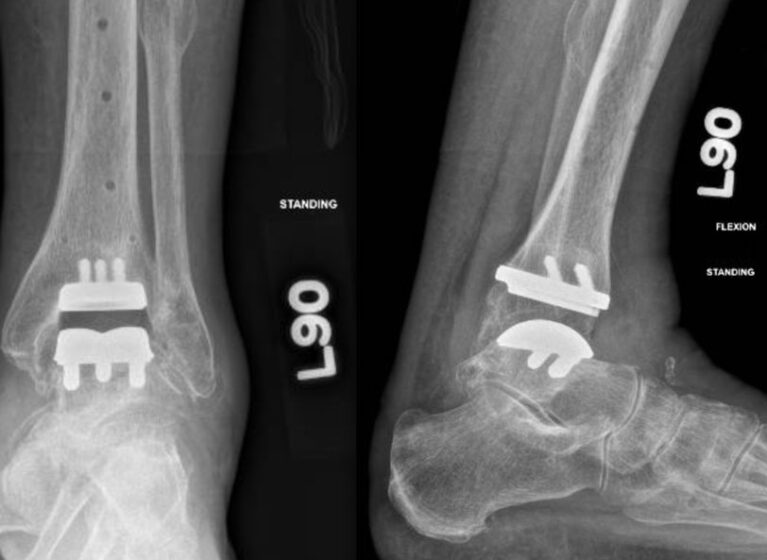 Compared to total hip and knee replacement, total ankle replacement is a relatively newer procedure designed to maintain ankle motion and improve quality of life in patients with end-stage ankle arthritis. UVA Health is one of the few healthcare centers in our region with three fellowship-trained surgeons who perform total ankle replacement. In many cases, total ankle replacement is a good option for improving gait and mitigating pain associated with arthritis or complex deformity.
Unlike ankle fusion surgery, total ankle replacement does not eliminate the motion of the affected joint. Additionally, there is decreased stress placed on adjacent joints when compared to a fusion procedure. Replacement of the ankle joint may be a better option for patients who have maintained ankle motion, even in the setting of advanced arthritis in other joints of the foot.
Surgeons at UVA Health perform an average of 50 total ankle replacements each year, a number which continues to increase as patients are referred to the UVA Foot and Ankle Division from throughout Virginia and beyond. Many of these patients arrive at UVA Health after having exhausted all other nonoperative options for treatment.
Patients Reap the Benefits of New Techniques & Technologies
Joseph Park, MD, who serves on the board of directors for the American Orthopaedic Foot & Ankle Foundation, describes a case involving a woman in her late 60s with severe bilateral ankle arthritis and valgus (pronation) deformity. "This patient was an otherwise very healthy woman with a history of severe arthritis in both ankles. The condition was so extreme that the bones in her ankles had collapsed leading to severe tilt of the talus within the ankle joint. She'd tried other treatments, including bracing, injections, and physical therapy, but she was now unable to walk for even short distances without severe pain."
After arriving at UVA Health, total ankle replacement was suggested as the best treatment option to restore function and minimize pain. According to Park, even severe deformities can be addressed through ankle replacement and realignment due to improved implant technology and innovations in surgical techniques.
CT Scan-based Cutting Guides Ensure More Accuracy
A major advancement in total ankle replacement involves the use of CT scan-based cutting guides. These guides, which are customized to each patient, ensure that surgeons make more accurate bone cuts. This, in turn, provides an additional method to improve intraoperative alignment.
Traditionally, CT-based cutting guides have not been widely used, even in hip and knee replacement surgeries. However, by using this technology, surgeons may reference the bony anatomy as precisely as possible. Park says, "The custom cutting guides allow for optimization of the alignment for both the tibial and talar bone cuts. The process is incredibly accurate and helps us provide the best outcomes possible."
While total ankle replacements may be susceptible to the same risks as other joint replacement procedures, such as infection, malalignment, fractures, and wound complications, this patient recovered well from both total ankle replacements. She showed significant improvement in both gait and activity level following the bilateral joint surgery. Park agrees that her outcome was exceptional, saying, "This is one of the most rewarding surgeries performed in orthopedics for pain relief and quality of life. Full recovery can take up to a year, but in properly selected patients, this procedure can be life-changing."
Further Research May Improve Bone Fixation to Implants
Park also participates in research to better understand what factors affect the bony incorporation of ankle implants. Part of that research is related to quantifying how much motion there is between the metal implant and the bone it is resurfacing. He explains that micro-motion can eventually lead to loosening or failure of an implant; however, 3D printing and porous metal technology are helping to mitigate this problem.
"With 3D printing technology, we can utilize metal implants that are porous, much like a honeycomb. That way, the bone can grow into the metal, not simply onto it. This may lead to permanent biological fixation and, hopefully, lifelong retention of the ankle replacement. I am hopeful that these innovations may even lead to improvements in outcomes for replacement of other joints, including the hip and knee," says Park.