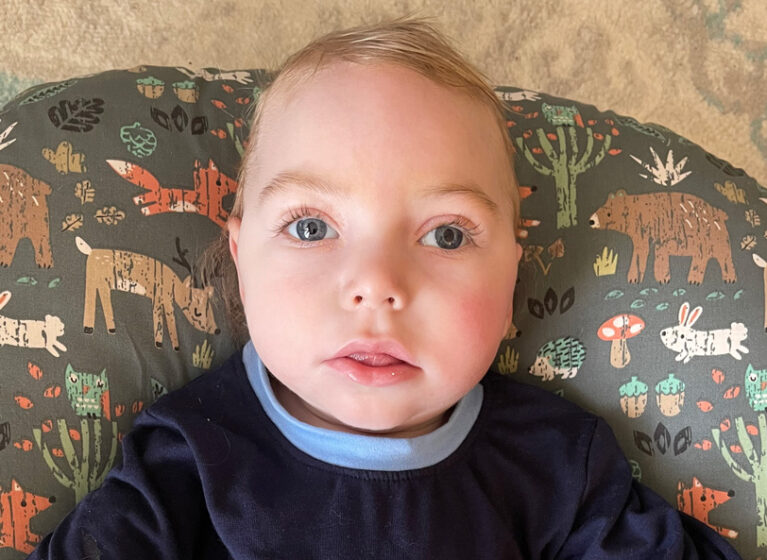 The GNAO1-related neurodevelopmental disorders are ultrarare, but can be devastating. The 300+ children diagnosed with this disorder may have severe drug-resistant epilepsy, a movement disorder, or a combination of both. Because it's such a rare condition with a wide variety of presentations, many basic questions about the disorder have remained unanswered. The result: Families of children with a pathogenic variant of GNAO1 have had difficulty finding specialists to provide care. Now, a UVA Children's pediatric neurologist, Erika Axeen, MD, is helping find answers.
During her epilepsy fellowship, Axeen met children with GNAO1-related neurodevelopmental disorder and took part in a research project on the disorder. When she came to UVA Health 5 years ago, she met Emily Bell, co-founder of The Bow Foundation, a nonprofit dedicated to supporting families and research into GNAO1.
This led to a productive partnership. Axeen worked with the Bow Foundation to create the GNAO1 International Registry, collecting survey results from 82 caregivers. The responses helped determine how often children present with various symptoms of the disorder and at what age they appear.
Howard Goodkin, MD, PhD, chair of the Department of Neurology and a pediatric epileptologist says "partnerships between private, often family-led, foundations, and the research community, like Dr. Axeen's partnership with the Bow Foundation, have often proved invaluable in moving the science towards a cure for these rare neurological diseases."
Symptoms First Appear in Infancy
For nearly all children, symptoms first appeared in infancy. The most common symptoms were hypotonia, developmental delay, seizures, difficulty feeding, and abnormal movements. Movement disorders were more common than epilepsy, but one-third of children had symptoms of both.
"Some children have dozens of seizures per day but no movement disorder, and some have a severe movement disorder but have never had a seizure," Axeen explains. "So it's quite variable."
Results from the survey appeared in journal Pediatric Neurology.
Studying Why Epilepsy Presents Differently With GNAO1
Now Axeen is building on those results and working to determine if there's a phenotype-genotype correlation in GNAO1 patients.
"A unique focus on this project is trying to explain what the epilepsy in GNAO1 looks like," Axeen says. "There's a lot of focus on the movement disorder piece because 70% of patients have a movement disorder. What's not as well studied is why some patients have a single seizur,e while others have dozens every day and epileptic encephalopathy."
Goodkin, who collaborated with Axeen, notes, "her efforts in defining the natural history of the epilepsy associated with GNAO1-related neurodevelopmental disorder is so very important to help patients and families navigate the disorder as well as being a very important first step in working towards future intervention trials of targeted therapies that may lead to a cure."